Billionaire Ashley Tries Not to Become Philip Green
(Bloomberg Opinion) -- Mike Ashley's Sports Direct International Plc said late on Monday that it had dismissed the former directors and senior management of House of Fraser. But by parting company with the department store's top brass, the retail entrepreneur has actually made it easier to head for the exit himself.
There was no word on who is leaving or who would take over. Ashley has a tight-knit group of top managers so it's possible one of those will be drafted in to develop the department store into his planned "Harrods of the High Street."
That aim is laudable. It would not only elevate House of Fraser but also Sports Direct's image with the big sports brands who might be persuaded to supply it with their hottest sneaker models. Introducing labels such as Stone Island and Moncler could also tempt in some of the more discerning shoppers who visit arch rival JD Sports Fashion Plc instead.
But, as I have argued, reinvigorating House of Fraser won't be easy. First of all, Ashley needs to convince the luxury brands to sell in that environment. The stores have suffered underinvestment for years, so a facelift will be expensive. Perhaps that explains the lack of enthusiasm in the share price.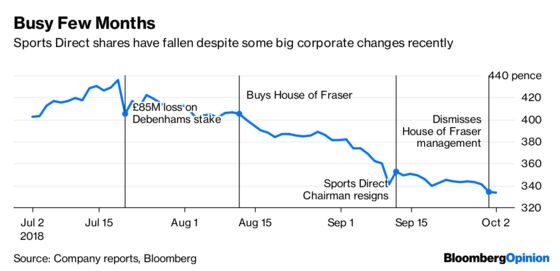 Though an executive clearout was not unexpected, it carries some risks. Ashley would do well to remember when Australia's Wesfarmers Ltd. bought U.K. DIY chain Homebase in 2016. It quickly took an ax to the management. But it misjudged the demands of the U.K consumer, and sold the business for a nominal amount in May.
Even if the House of Fraser management didn't all quite see eye to eye with Ashley, at least they knew the business and its finances, and have established relationships with brands and suppliers. Sports Direct's management now looks stretched.
The announcement, as with many of Ashley's communications, is highly unusual. Companies usually like to dress up departures, saying that they are by mutual consent, or affected executives have decided to pursue opportunities elsewhere. There are no such niceties with this purge.
And when this is combined with Ashley's calls for an inquiry into the circumstances of House of Fraser's near-death experience, there seems a clear effort to put the blame for its demise firmly on the chain's previous Chinese owner and managers.
There's good reason for this. When department store BHS collapsed in 2016, former owner Philip Green faced a grilling by lawmakers even though he'd sold the business in 2015. Ashley is right to worry that he could get put on the hook for previous missteps at House of Fraser. 
A less charitable view might be that Ashley plans to operate the business through Christmas, liquidating the stock and making a profit in the process. Then, once the holidays are over, he could say that the past problems have made it too hard to turn House of Fraser around, and make his exit.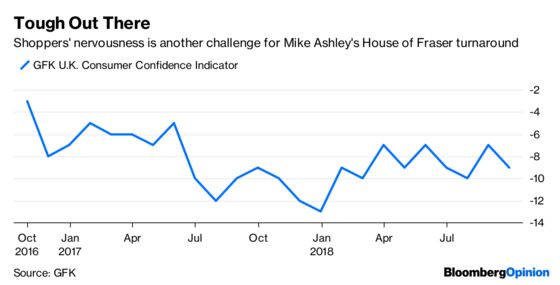 That looks unlikely right now. Ashley has long coveted a department store. He has also gained some rare positive PR from rescuing House of Fraser and salvaging some high street stores and jobs. What's more, if he gives up on his Harrods of the High Street vision, he won't get the broader benefits to the core Sports Direct chain. Nor would he be able to eventually make a move on Debenhams Plc, in which the company has a 27.6 percent stake. 
But if Ashley can't pull off his ambitious plans, at least he now has a plausible escape route.
This column does not necessarily reflect the opinion of the editorial board or Bloomberg LP and its owners.
Andrea Felsted is a Bloomberg Opinion columnist covering the consumer and retail industries. She previously worked at the Financial Times.