Beware China Equity Bulls
(Bloomberg Opinion) -- The next time an analyst tells you that China stocks look cheap, take it with a grain of salt.
In Asia's biggest economy, key accounting metrics such as return on equity are dead.
Mainland shares are among the worst in the region, with the CSI 300 Index down 16 percent since January despite its members averaging double-digit revenue growth and analysts predicting a stable return on equity. The benchmark is currently trading at 12.8 times current earnings, the least since February 2016.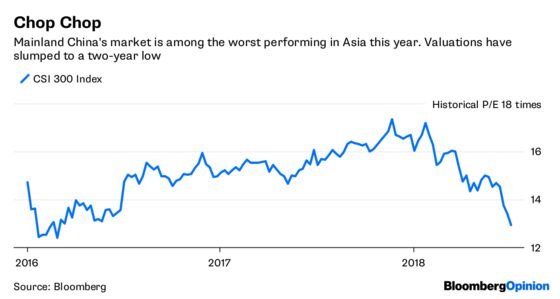 Return on equity, a measure that's favored by stock pickers, gauges how much profit a company can generate with each dollar of shareholders' money. If a firm's business is growing and profitable, ROE will be naturally high, or it may be juiced up with debt. KKR & Co., for instance, arranged financing equal to 7.25 times Ebitda to take Envision Healthcare Corp. private last month. That's high, even for a leveraged buyout deal.
China, however, is in a different place to the U.S., whose economy has been supercharged by President Donald Trump's tax cuts. Beijing is trying to reduce corporate debt, plus weather an impending trade storm.
As a result, investors have been shunning companies with high leverage this year, instead buying healthcare names, which tend not to have such large obligations. After all, if a firm defaults, what rights do equity holders have? A company's return on assets, rather than return on equity, is a better measure.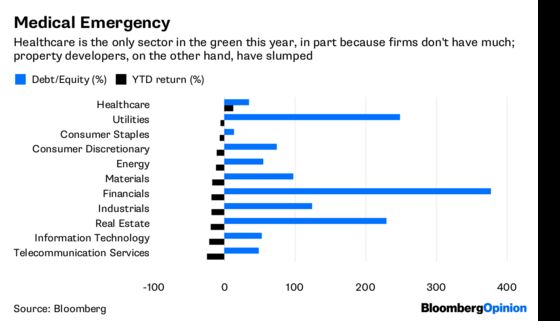 It's open to question how profitable a firm really is. Those with exposure to public-private partnerships make good case studies.
In every traditional sense, the Hong Kong-traded shares of China State Construction International Holdings Ltd. are depressed. Its stock trades at just 5.9 times 2018 earnings on double-digit profit growth and offers a handsome 4.5 percent dividend yield. Sure, the company's 86 percent debt-to-equity ratio isn't palatable, but China State Construction's Shanghai-listed parent, China State Construction Engineering Corp., is a central state-owned entity, so there's almost zero default risk.
Yet China State Construction International is down almost 30 percent this year.
How fast can it get cash in the door? The group builds basic infrastructure in smaller towns in China. Since Beijing is cracking down on local-government financing, regions aren't paying their bills fast enough. China State Construction's accounts receivable have risen sharply versus sales while its operating cash flow has dipped into the red.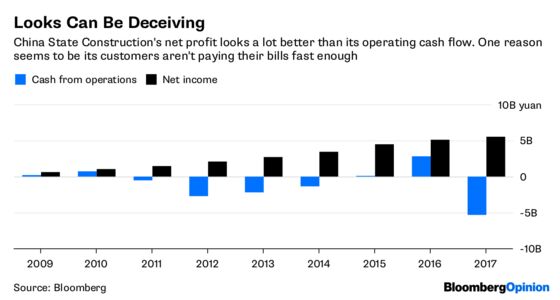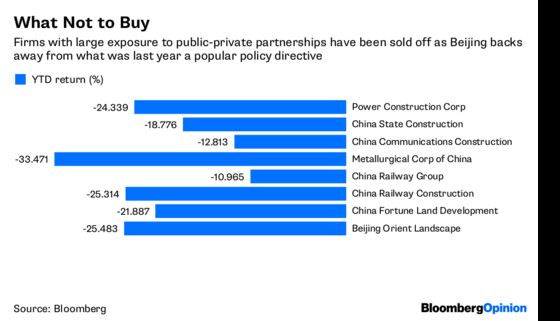 Beijing Orient Landscape & Environment Co., which last year got almost 70 projects from the government valued at around 120 billion yuan, rattled investors in May when it managed to sell only a tiny portion of its planned 1 billion yuan of bonds.
When liquidity is tight, investors must be wary of any company with a high debt load, or one that relies on the government for cash flow and policy direction. And in China, that's a large chunk of the market: Of the some 3,000 publicly traded firms, more than 1,000 are state-owned enterprises.
Local media in China often boast that domestic shares don't have any basis for sustained declines. I beg to differ.