Beijing Towers Over This $9 Billion IPO
(Bloomberg Opinion) -- China Tower Corp.'s Hong Kong IPO looks like a pretty straightforward affair. 
There's a reason why fund managers and index compilers treat global peers like American Tower Corp. and Crown Castle International Corp. as real estate investment trusts.
In China, things are rarely so simple, however. Not only is China Tower a "manufactured" company (the result of three telcos spinning off their tower businesses), rather than an "organic" one (set up to serve telecom clients), it's got Beijing's fingerprints all over it.
With a 5G rollout coming and the nation determined to be a global leader in this field, China Tower will need buckets of cash to expand. Hence its plan to raise up to $8.7 billion in a Hong Kong listing (for a valuation as high as $35 billion), a figure that exceeds the $5.4 billion Xiaomi Corp. picked up in its debut this month. In fact, that will be the largest global IPO since Alibaba Group Holding Ltd. garnered $25 billion four years ago.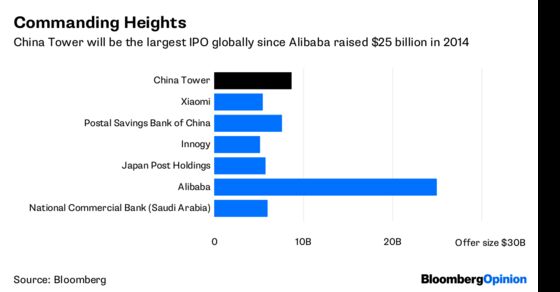 You might switch the company's apt but unimaginative name to National Service Corp., because that will be its primary function. This role is even spelled out in the prospectus.
We are an indispensable driving force in the implementation of China's strategy of building strength in cyberspace.
China Tower was born out of national service and is raising almost $9 billion for national service, so investors can be sure that when strategic decisions are needed, they'll be made in the interests of the nation.
There are a few ways this could play out, and one stark example is provided by the technology itself.
Because of its specifications, 5G requires denser transmitter networks, which means more towers per square kilometer and the implementation of smaller cells covering less territory. In theory that's good for China Tower, since it would mean more sites on which to charge rent. However, as Sanford C. Bernstein analysts Chris Lane and Samuel Chen wrote recently, the return on investment for small cells could be far worse than for macrocells covering larger areas.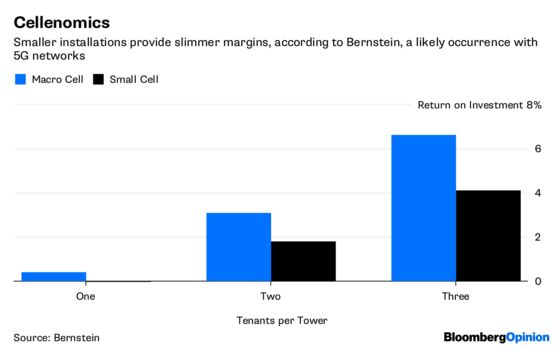 So 5G could mean spending relatively more money for slimmer returns. In addition, as China Tower points out in its prospectus, "serving multiple tenants at a site increases our marginal profit, even after the co-location discounts." Lane and Chen argue that small cells, such as those installed on traffic-control poles and bus stops, are likely to attract fewer tenants per site because of space limitations, reversing the economies of scale enjoyed by co-location. 
With China Tower's largest shareholders — China Mobile Ltd., China Unicom Group Corp. and China Telecom Corp. — also accounting for 99.4 percent of revenue, there's a clear conflict of interest. China Tower executives who feel the need to raise rents for tenants will have to remember that doing so will hurt returns for their major shareholders. The company claims pricing is done at arm's length, but I challenge even the most steadfast CEO to try negotiating when your three top clients are also your bosses.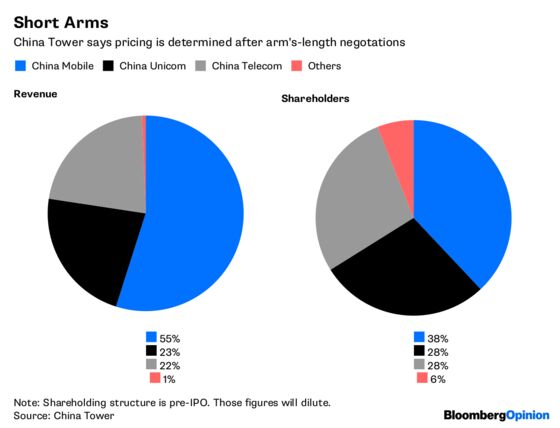 Then there's President Xi Jinping and his goal of building up the nation's tech sector. Should the 5G rollout prove trickier than expected, it's highly likely that China Tower will be among those required to spend more and earn less. And it will most certainly be called upon to help embattled compatriots such as ZTE Corp.
The telecom-equipment maker this month announced that a temporary ban on buying components from the U.S. pushed it into a first-half loss of 9 billion yuan ($1.3 billion), after a 2.3 billion-yuan profit a year earlier. While equipment is usually bought by the tenant telco, investors should not be surprised if China Tower finds ways to lend a helping hand.
As investors weigh up whether to buy into China Tower's IPO, they could build their spreadsheets and run the numbers to compare it with peers. Or they could they face the fact that this is a national service play for which numbers may be less clear than Beijing's shadow.
This column does not necessarily reflect the opinion of the editorial board or Bloomberg LP and its owners.
Tim Culpan is a Bloomberg Opinion columnist covering technology. He previously covered technology for Bloomberg News.