Is China's Buying Binge Over? Follow Gucci's Sparkle Dad Sneakers
(Bloomberg Opinion) -- When Burberry Group Plc revealed its collection at London Fashion Week last month, one thing stood out even more than designer Riccardo Tisci's new creations: how many of the show-goers were wearing Gucci loafers. Smart and flat, they were the footwear of choice for scurrying from show to show.
It seems it's not just the fashion pack who are still buying Gucci. Organic sales at the brand rose by a better than expected 35.1 percent in the third quarter. That helped lift parent Kering's sales growth, excluding currency movements and changes to the group's structure, to 27.5 percent.
Given that Gucci's second-quarter sales missed expectations, Wednesday's beat should give some reassurance that the brand's pearl encrusted star hadn't burned itself out.
But there are still some good reasons to be cautious.
Luxury does best when consumers feel happy and wealthy. The equity market gyrations of the past few weeks will do nothing to lift the consumer mood. Add in political tensions around the world, and this isn't the ideal environment for selling tons of leather mini-dresses or bejewelled sneakers.
But there is another specific cause for concern: China.
Luxury consumers there have been on a two-year buying binge. Some of that was a catch up after a lean period, so there was always going to be a slowdown. But trade tensions with the U.S., falling stocks and a weaker yuan could all stoke a sharper deceleration.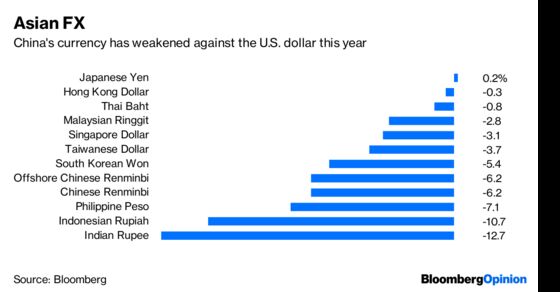 Kering said it had seen no signs of a slowdown. Sales to Chinese clients were in line with the second quarter, and ahead of those in the first three months of the year.
But the most recent turbulence might not be felt until luxury goods groups report their fourth quarter sales. Kering said it still expected Gucci to expand about 25 percent in the final three months of the year. Whether it meets this will be a key test.
The brand has had a phenomenal run over the past three years. It's not reasonable to expect this pace to be maintained, particularly as the current performance compares with strong sales growth a year ago.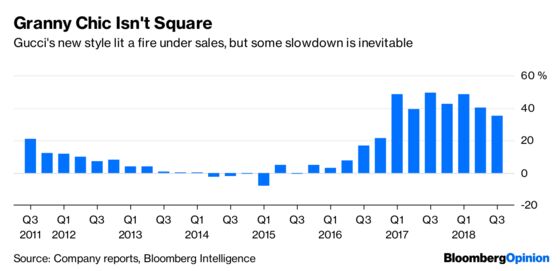 So far, a soft landing seems to be on its way. While head designer Alessandro Michele's more outlandish creations might grab all the attention, the big sellers are the more-subtle handbags and shoes. It helps that the core range, available from one season to the next, accounts for 70 percent of the brand's products. Underpinning all this is a slick supply chain that ensures the most in-demand items are never out of stock for too long.
Even though Kering shares gained as much as 13 percent on Wednesday, they're still down nearly 19 percent so far this month. The jury is still out on whether Gucci's big reinvention will fizzle out in the end, or turn into a timeless classic.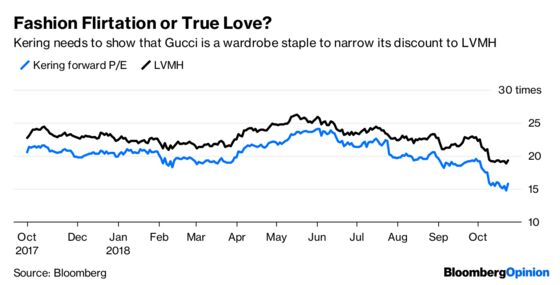 This concern has weighed on the benefit that the group otherwise would have had from adopting a pure luxury focus since it spun off most of its stake in Puma SE. It's also overshadowed stronger growth in some of the group's other brands, such as Balenciaga.
Kering trades on a forward price earnings ratio of about 16 times, compared to LVMH's 19 times. Its discount will remain until the group can show unequivocally that Gucci has become the equivalent of those loafers: a wardrobe workhorse rather than a novelty purchase to be worn once and cast aside.
This column does not necessarily reflect the opinion of the editorial board or Bloomberg LP and its owners.
Andrea Felsted is a Bloomberg Opinion columnist covering the consumer and retail industries. She previously worked at the Financial Times.