Big Tobacco's Hopes for Vaping Go Up in Smoke
(Bloomberg Opinion) -- British American Tobacco Plc has taken a match to its forecasts for sales of its alternatives to traditional cigarettes – and sent a warning about how fast consumers are shifting to vapes and other smoking alternatives.
Revenue from so-called next generation products will be 10 percent less than the 1 billion pounds ($1.3 billion) BAT had previously anticipated, the maker of Dunhill and Lucky Strike said on Tuesday.
The primary cause for the shortfall was the Japanese market, where demand for tobacco-heating devices has stagnated, even if BAT's Glo product is gaining market share. While early adopters have switched to new products, other consumers are proving more resistant to change. But the slowdown in a key market shouldn't have come as a surprise to investors: Philip Morris International Inc. warned about the trend in April.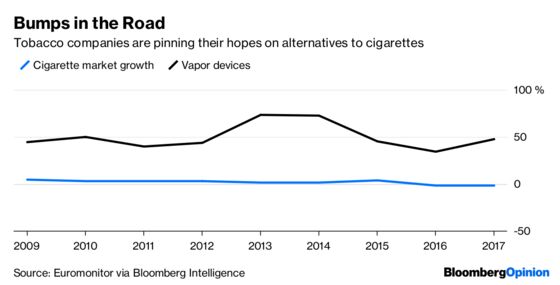 The big tobacco companies are investing heavily in e-cigarettes, hoping they will grow fast enough to offset dwindling sales of their traditional products. The warnings from BAT and Philip Morris underline how difficult it will be to navigate this shift.
There will be stumbles: The slowdown in Japan is one. Competition from start-ups such as Juul and greater regulation may be others, not to mention the increasing legal acceptance of cannabis.
There's also the risk that their traditional business will shrink faster than expected, reducing the amount of cash they can in invest in alternatives. That strategy is only sustainable if sales of the original product don't fall by more than 3.5 percent a year, according to Duncan Fox, an analyst at Bloomberg Intelligence. BAT says it expects volumes across the industry to be down by that amount in 2018.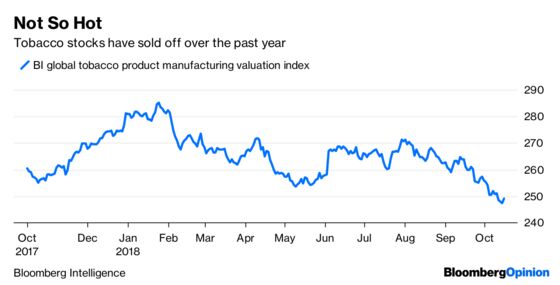 If more smokers kick the habit, or prove reluctant to adopt alternative products, investors' hopes that big tobacco will ride out this disruption may prove as fleeting as a smoke ring.
This column does not necessarily reflect the opinion of the editorial board or Bloomberg LP and its owners.
Andrea Felsted is a Bloomberg Opinion columnist covering the consumer and retail industries. She previously worked at the Financial Times.