This Small Bank Could Signal Trouble for the Biggest Ones
(Bloomberg Opinion) -- If Bank OZK is any indication, investors will be a lot less patient with banks than they were a decade ago the next time trouble hits. Worse, OZK's recent results may indicate that there is indeed trouble ahead.
On Thursday evening, OZK, a midsize bank based in Little Rock, Arkansas, that has become one of the nation's most aggressive commercial real estate lenders, announced that its third-quarter earnings had unexpectedly dropped nearly 23 percent. Analysts had been expecting earnings to rise 20 percent. Investors on Friday morning sent the shares, which were already well off their March high of $51, down 23 percent to less than $27.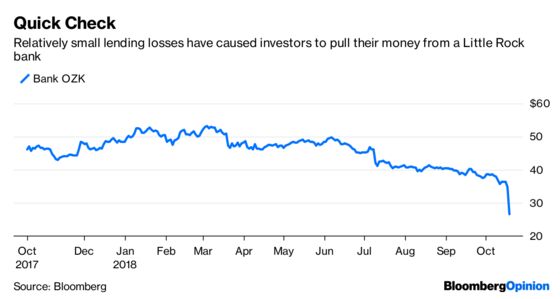 You might know OZK, even if you don't recognize the name. That's because it used to be called Bank of the Ozarks until it changed its name in July. One reason for the rebranding could be its growing reputation as a risky lender. Two years ago, noted short-seller Carson Block, who goes by the name Muddy Waters, warned that the bank could stumble soon. But another reason for the rebranding could have been so it could do more risky lending with an image friendlier in the hot condo markets of Miami and New York, where the bank is doing much of its lending these days. Either way, that rebranding cost the bank about $11 million, which was just one of its problems in the quarter. What's more, that rebranding, at least with investors, appears to be off to a rocky start.
The bigger problem for OZK, and potentially the nation's largest banks, is that its commercial real estate portfolio, which Block and others have warned about, appears to be starting to turn bad. OZK reported that its expense for credit losses rose 439 percent to nearly $42 million, the result of two relatively large real estate loans, which  had been on OZK's books for more than a decade, going bad. A number of bankers, including Wells Fargo CEO Tim Sloan, have warned recently about potential problems in commercial real estate lending. And Sloan is the one who should be most worried. Wells Fargo has the largest commercial loan portfolio of the big banks at $145 billion, which was showing signs of early trouble in the first quarter, but appears to have improved lately.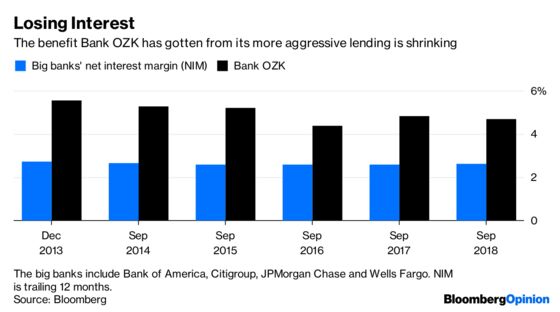 But where OZK could signal a truly significant problem for the banks is interest costs. Rising deposit costs, which is the interest a bank has to pay its checking account holders to keep their money there, has been a concern. So far it hasn't been a problem for the big banks, but it appears to be a growing problem for OZK. In the first nine months, OZK has had to increase what it pays on deposits by 0.53 percentage points, yet it has only been able to increase the average interest rate it charges on its loans by 0.31 percentage points. A similar squeeze would cost JPMorgan Chase & Co., for example, as much as a $1 billion in revenue.
None of this is enough to sink the big banks, or even OZK. Commercial lending makes up a relatively small portion of the trillions of dollars in total loans extended by the big banks. And JPMorgan is expected to have $110 billion in revenue this year. For OZK, its $40 million lending loss means that just 0.23 percent of its core loans (those it originated itself) are now nonperforming — not nearly enough to sink the bank.
Nonetheless, its stock is plummeting in part because the bank had long told investors it had one of the safest lending portfolios around. Investors are indicating their willingness to trust bankers is pretty slim when even the hint of trouble arises.
This column does not necessarily reflect the opinion of the editorial board or Bloomberg LP and its owners.
Stephen Gandel is a Bloomberg Opinion columnist covering banking and equity markets. He was previously a deputy digital editor for Fortune and an economics blogger at Time. He has also covered finance and the housing market.