Here's How Saudi Cash Could Bring on the Global VC Crash
(Bloomberg Opinion) -- Numerous column inches have been devoted to wagging a finger at the relationship between the iron-fisted Saudi monarchy and the dozens of global companies wanting to make the world a better place.
Rather than rehash that outrage, let me instead walk you through the possibility that the murder of a Saudi writer could dry up the flow of money in Silicon Valley. Whether or not it happens, concern alone about ties to the kingdom could be enough to deflate a VC bubble.
At the center of the story is SoftBank Group Corp., its founder Masayoshi Son and his ambitious SoftBank Vision Fund. Saudi Arabia's Public Investment Fund put $45 billion into Masa's first $100 billion pot of money, and was on track to throw a similar amount at a subsequent fund. 
Saudi crown prince Mohammed bin Salman, who also heads the PIF, boasted to Bloomberg about his role.
"We are the creators of the SoftBank Vision Fund … Without the PIF, there will be no SoftBank Vision Fund."
To ensure we don't forget this fact, I'll hereafter refer to it as the Saudi Vision Fund.
That massive wad of cash has turned Masa, as he's known, into the "big stack bully" described in a recent Bloomberg Businessweek profile. I've called him the "unicorn veterinarian." His largess allows Masa to scare away rival investors in a startup, while simultaneously granting him the power to save companies that may have otherwise struggled to raise more money. 
The world's four largest investment deals during the third quarter included SoftBank or the PIF, according to a quarterly funding report by CB Insights and PwC. By the end of June, just 13 months after closing its primary fundraising round, the Vision Fund had deployed $27.1 billion. When Sequoia Capital, one of the world's largest VCs, was set to raise $8 billion earlier this year it was described as a "monster fund."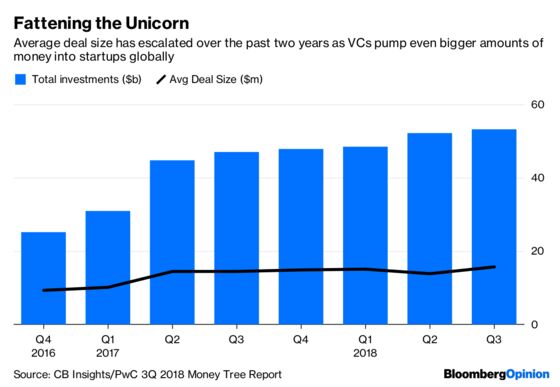 To explain the Saudi Vision Fund's influence let's look at how the VC ecosystem works. Some funds invest in fledgling startups, called seed funding, and may dabble in early rounds such as A or B. Others like to write big checks for established and famous names, joining the journey at a series C, D or E. Most VCs specialize in one or the other.
The Saudi Vision Fund is firmly in the latter category. That sucks for late-stage investors who want in on a hot startup but are forced either to overpay or walk away.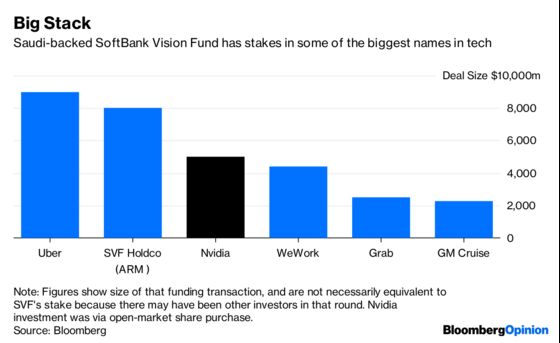 Yet Masa's Saudi-backed pile of cash is fantastic news for seed and early-round funds.
That's because the great secret to venture funding isn't finding profitable companies, but throwing money at startups you believe will be able to raise money later. 
Just like rolling over debt, survival depends on getting to the next round. Even later-stage investors don't require profits to take a punt — they're just betting they can palm the investment onto public markets where pension funds, hedge funds and index funds will take the risk. Think Snap Inc. and Xiaomi Corp.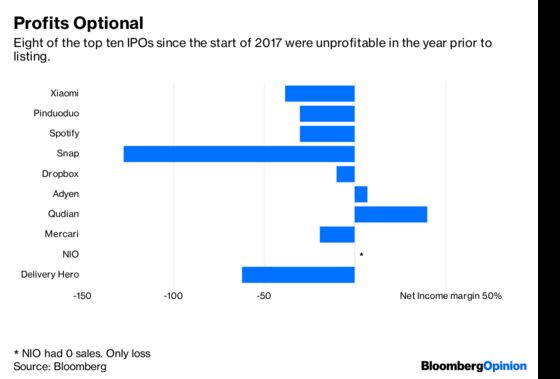 But this airplane game starts to lose altitude if the flight path of funding rounds hits turbulence. We saw this when the dot-com crash brought IPOs to a screeching halt: Later-stage VCs weren't going to throw money at startups if they couldn't sell them to public markets later.
The bad smell surrounding the Saudi Vision Fund has many dimensions. At the most basic level, if the big money stops flowing — because Masa decides it's too risky to accept — then already-established startups may not get the large checks they need to continue. And just the potential that could happen means early-stage VCs may start to balk at investments for fear that there won't be any big checks coming later.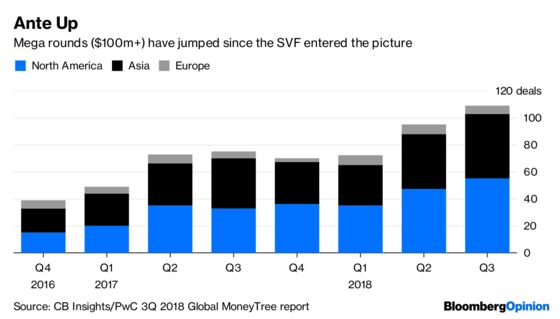 We've already seen moral conscience on display in Silicon Valley with
Google dropping a Pentagon contract
because of employee backlash. It's not inconceivable that some founders take the moral high ground and refuse Saudi cash. It's also possible that startups backed by Saudi money could be blacklisted by consumers.
And finally there's doubt over Masa's second mega fund. The only thing likely to inspire more FOMO than a $100 billion pile of cash is a $200 billion pile of cash. If that benevolence looks in doubt, then so too are the chances that others in the VC food chain will make bets.
With so much of the Silicon Valley business model built on hopes (of big funding rounds) and dreams (of massive wealth), all it could take to disrupt the momentum is fear of a funding crunch. Given rising interest rates, a possible trade war and concerns about China's economy, the reality of Saudi money may be what finally deflates the startup bubble.
This column does not necessarily reflect the opinion of the editorial board or Bloomberg LP and its owners.
Tim Culpan is a Bloomberg Opinion columnist covering technology. He previously covered technology for Bloomberg News.