Britain's Plastic King Undone by Water Pistols
(Bloomberg Opinion) -- B&M European Value Retail SA, a rare high-flying British retailer, has come back down to earth.
The discounter on Tuesday reported a slow-down in U.K. sales from stores open at least a year in the second quarter, after it had sold out of patio sets, paddling pools and squirt guns early in the season.
It looks like, having had a decent first quarter, like-for-like sales fell in the subsequent three months, according to analysts at RBC Capital Markets. What's really worrying is that it doesn't look like there's been any real improvement in the current period.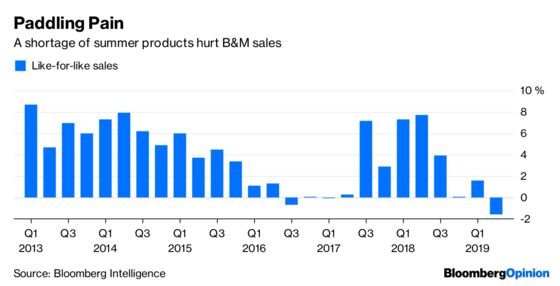 B&M has managed its stock quite tightly, and indeed, said that its U.K. gross margin rose by 0.5 percentage points in the first half. This is normally a good sign, and partly explains the dip in revenue. However, the company still has to navigate the significant challenges faced by all U.K. retailers – relentless discounting by competition and a murky outlook for British economic growth.
The sharp drop in the shares show the depth of the difficulties it faces, and at one point their decline was the biggest since the aftermath of the Brexit vote in June 2016.
B&M's engine of growth is new store openings. It will debut 58 core U.K. outlets this year, compared with plans for 40-50 previously, all part of a plan to significantly expand its British presence, something that I have argued looks misplaced given current market conditions. But that won't make up for a slow-down in the existing estate, particularly as the company prepares for the crucial Christmas season.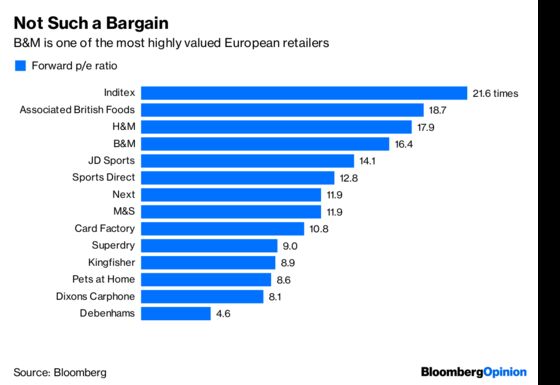 The U.K. disappointment comes at a delicate time. Management, led by the perennially optimistic Chief Executive Officer Simon Arora, has important work to do to overhaul the newly acquired Babou store chain in France and improve its Jawoll business in Germany. 
With Tuesday's fall, the shares are down about 3.5 percent over the past year. They remain highly valued though, having one of the highest price earnings ratios in the retail sector.
To retain the premium to many rivals, it will need to have a good Christmas, free from any stock shortages, and also demonstrate that it is making progress in both the German and nascent French businesses. Given the increasing complexity of B&M's operations, that looks like a tall order, though not outside the realm of possibility. 
As I have argued, there is one potential wildcard for its outlook: it could be an attractive acquisition for a supermarket keen not to miss out on the trend for consolidation.
With a market capitalization of about 3.8 billion pounds, B&M is no bargain. At least if its Christmas turns out to be a turkey and the shares continue to fall, it could become more palatable to a predator.
This column does not necessarily reflect the opinion of the editorial board or Bloomberg LP and its owners.
Andrea Felsted is a Bloomberg Opinion columnist covering the consumer and retail industries. She previously worked at the Financial Times.