HBO Gives AT&T Stars, But Verizon Steals the Show
(Bloomberg Opinion) -- Sure, it now owns HBO, one of the premier TV networks feted at last night's Emmy Awards. But the new AT&T Inc. doesn't look any more glamorous than the old one.
AT&T's shares have fallen behind Verizon Communications Inc.'s by the most in nearly three decades, as the two largest U.S. wireless carriers veer in vastly different strategic directions: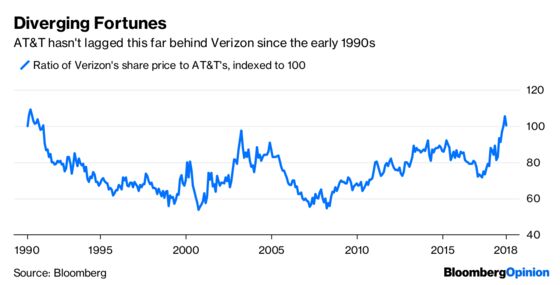 Since a judge gave the all-clear to AT&T's $102 billion acquisition of Time Warner in June, the AT&T team led by CEO Randall Stephenson has started integrating its newly acquired TV networks and film business. Meanwhile, Verizon's new CEO Hans Vestberg has prioritized investing in the company's wireless network and downplayed the need for buying media assets. The opposing visions at two companies that used to be quite similar have sparked a debate over whether it's more advantageous to be a narrowly focused business like Verizon or a conglomerate with control over both distribution and content.
What we do know so far is that the spotlight on Time Warner is masking some of the deterioration at other parts of AT&T, specifically the DirecTV satellite operations that it's owned since mid-2015. Consider this: Last year, AT&T forecast about $58 billion of Ebitda for 2018, excluding Time Warner. Based on the company's latest forecasts, that figure is set to be about $10 billion lower now, according to Craig Moffett, an analyst at MoffettNathanson LLC who calls it "an absolutely breathtaking rate of erosion." Here's his analysis: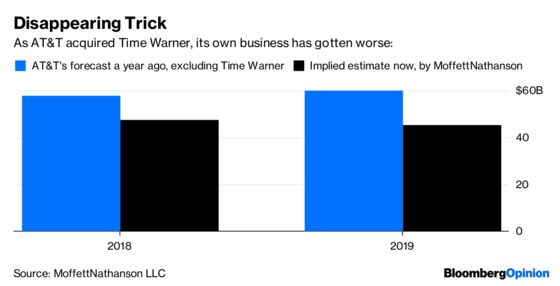 Moffett isn't alone. A year ago, analysts were predicting about $54 billion of 2018 Ebitda for AT&T on a stand-alone basis (when the Time Warner deal was still uncertain). Now, they peg this year's Ebitda at about $57 billion, but that includes nearly $10 billion from the Time Warner business. Without that new contribution, AT&T's trajectory didn't look so good: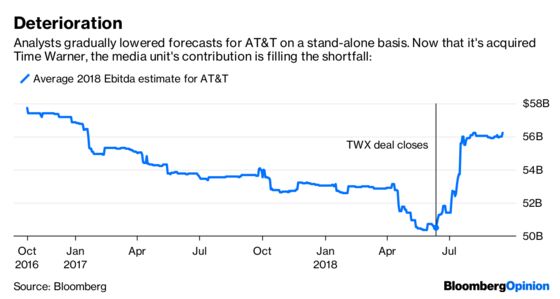 It's far too early to grade the deal itself. But as things stands today, AT&T may have bought near the top of media industry valuations, while also reducing exposure to wireless at a potentially inopportune time. Verizon is staging a recovery in average revenue per postpaid wireless subscriber, but the Time Warner transaction leaves AT&T less exposed to that market relative to its total revenue.
Acquiring Time Warner has also made AT&T the most indebted non-bank company in the U.S. Speaking to investors at the Goldman Sachs Communacopia conference last week, Stephenson emphasized AT&T's free cash flow, which he predicts will be $25 billion on a running annual basis after this year, versus the $18.6 billion it generated in the trailing 12-month period. The company is targeting a ratio of net debt to forward Ebitda of 2.5 by the end of next year, versus 3 now. Stephenson did highlight reasons AT&T's capital obligations won't be quite so immense starting next year:
As part of its DirecTV deal, AT&T was required by the Federal Communications Commission to offer fiber service to at least 12.5 million homes and very small businesses within four years of the purchase. Those requirements go away beginning in the second half of 2019.
AT&T's government contract for the FirstNet system for first responders significantly increased AT&T's spectrum holdings. It also allows AT&T to essentially kill two birds with one stone: As workers power up the FirstNet cell towers, they can also do some preparation work for 5G, the next generation of wireless service. 
The network AT&T has been building in Mexico that's been consuming a lot of cash is now almost complete. 
The video-entertainment division's Ebitda will go from declining about 15 percent to flattening out next year.
That all sounds good in theory, but management predictions around megamergers and the actual results are rarely in line. AT&T's cash is still being tugged at from numerous directions: 5G investment, a mountain of debt, its all-important dividend, and new media-investment needs such as increasing the frequency of hit shows created by HBO — not just so it can take home Emmy Awards, but also to retain viewers lured by Netflix Inc.'s constant stream of content. Stephenson and his team have a full plate.
It will be interesting to watch AT&T's and Verizon's approaches play out over the next few years. At the moment, a more steady and predictable strategy seems to have greater appeal.
This column does not necessarily reflect the opinion of the editorial board or Bloomberg LP and its owners.
Tara Lachapelle is a Bloomberg Opinion columnist covering deals, Berkshire Hathaway Inc., media and telecommunications. She previously wrote an M&A column for Bloomberg News.