King of Trash TV Gets Keys to HBO Kingdom
Bloomberg
Opinion
(Bloomberg Opinion) -- Randall Stephenson will be remembered as the chief executive officer who nearly ruined AT&T Inc. John Stankey, Stephenson's right-hand man before becoming his successor, may be the one who saves it. 
On Monday morning, Stankey had the air of someone who just had a tremendous weight lifted off his shoulders. He was bidding farewell to WarnerMedia after more than four years of trying like heck to convince seemingly everyone — first the U.S. government and then AT&T's own shareholders and new employees — that the wireless giant was the right home for the entertainment business, including HBO, an iconic generations-old brand that practically came in a box marked "fragile." But on Monday, Stankey could finally toss out the script he helped to write and tell the easier story: the merits of selling WarnerMedia and its streaming app, HBO Max, to Discovery Inc. He was excited about cutting them loose, he said, and turning AT&T back into a wireless carrier. Investors were, too, with the stock climbing 2%; shares of Discovery initially shot up 11% before reversing direction and sliding 2%.
David Zaslav, the CEO of Discovery sitting to Stankey's right, was full of adrenaline and reading from what appeared to be freshly printed sheets of paper, as if an all-nighter had just culminated in a lights-camera-action press conference. Both men just announced the biggest deal of their professional lives. Only three years after completing its $102 billion takeover of Time Warner Inc. and renaming it WarnerMedia, AT&T is reversing course and spinning off the business, which then will be merged with Discovery. Zaslav, the king of trash TV, soon gets to be in charge of HBO, CNN, TBS, TNT, the Warner Bros. movie studio and the DC Comics superhero franchise. More important, he'll be able to combine HBO Max and Discovery+ into a streaming super-app that could give Netflix Inc. and Disney+ a run for their money. Discovery had just under $11 billion of revenue in the past year. When the deal closes, that figure will exceed $50 billion.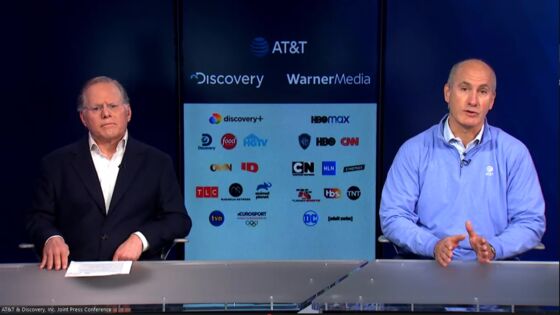 Zaslav, 61, has a discernible uniform in media land: vest over a collared shirt. His company's top cable programs include "90 Day Fiance" and "Naked and Afraid" — not exactly red-carpet material. He's also a close confidant of John Malone, 80, a top Discovery shareholder and a renowned dealmaker who long ago snubbed New York for the cattle ranches of Colorado and earned the nickname "cable cowboy." But Zaslav is about to be a true Hollywood CEO and noticeably played the part Monday in a suit, no tie. "We think together the combination makes us the best media company in the world," he told virtual listeners. He then thanked Malone, "who created everything in the business, who has been a teacher and a best friend and really a father to me." Malone's fingerprints are all over this transaction, given its use of the same complex tax-free structure he's known to cleverly employ. 
"The goal for the new AT&T will be simple and straightforward," Stankey said, highlighting the company's recent $28 billion debt-funded purchase of 5G spectrum and plans to expand its fiber reach to more U.S. broadband internet customers. Zaslav said the deal idea began to form some months ago while the pandemic left him stuck home and led him to text Stankey. "We ended up in a two-hour conversation." 
For Stankey, the pressure to "cut loose" WarnerMedia has probably been building for some time. The deal quickly careened AT&T's stock into the hands of an activist shareholder, Elliott Management Corp., and put pressure on Stephenson to make significant changes or step aside. After 13 years at the helm, he retired last June near the height of the Covid-19 crisis. The stock lost more than 20% under his watch. That doesn't reflect its fat quarterly dividend, though, which some feared might even be put in jeopardy by Stephenson's costly dealmaking. He had turned the company into the world's largest nonbank corporate borrower. He also acquired Time Warner, primarily a cable-network operator, just as streaming began to bludgeon cable TV.
The new Discovery-WarnerMedia entity — the name will be unveiled in the coming days — will be saddled with $55 billion of debt, according to Zaslav. Still, he projects $8 billion of free cash flow by 2023 to help pay that down "very, very quickly." Zaslav is accustomed to the cheap-to-produce nature of reality TV, but keeping HBO Max competitive with Netflix will require a constant flow of premium scripted series as well. HBO Max and HBO together added more U.S. users in the first quarter than Netflix did and will soon be launching in other countries. Discovery offers a strong international presence and local-language programming that it can exploit for HBO Max the way it did when it acquired HGTV parent Scripps Networks. 
What's not clear is whether Jason Kilar, WarnerMedia's CEO and new face of the business, is coming along with it — or if he was even aware of these discussions. Kilar formerly ran Hulu and was seen as a strong hire for AT&T last year. When asked about his future role, Stankey said Zaslav's "got a lot of decisions to make on personnel." These will also include the fate of Jeff Zucker, the head of CNN who was on his way out but may now be in line to take on a bigger role.
As for AT&T, it will receive $43 billion, funds that will aid its 5G ambitions. The company has been vying with Verizon Communications Inc. and T-Mobile US Inc. for spectrum frequencies being auctioned off by the Federal Communications Commission. T-Mobile is expected to take the lead in 5G, but a refocused AT&T will be a force to be reckoned with. 
Stankey was Stephenson's point person along his dealmaking spree, running the ill-fated DirecTV and then WarnerMedia before being named AT&T's CEO. But he deserves credit for having the courage to undo a massive merger that just wasn't working and to make the call as quickly as he did. The only question now is whether Netflix, Comcast Corp. or any other deal-seekers come along to throw a wrench in Stankey's grand plan. 
This column does not necessarily reflect the opinion of the editorial board or Bloomberg LP and its owners.
Tara Lachapelle is a Bloomberg Opinion columnist covering the business of entertainment and telecommunications, as well as broader deals. She previously wrote an M&A column for Bloomberg News.