AstraZeneca Shows It Can Still Take Some Knocks
(Bloomberg Opinion) -- AstraZeneca Plc has had another setback in the lab. That the British drugmaker can take it in its stride shows that enough is going right for CEO Pascal Soriot to begin justifying his opposition to Pfizer Inc.'s 69.4 billion-pound ($89 billion) takeover approach four years ago.
On Friday, the company said Imfinzi, its key lung cancer drug, had failed to deliver significant survival rates in late-stage, non-small cell lung cancer when used in combination with another of its immuno-oncology treatments. Hopes for the pairing were already low: last year, they failed in another trial.
Rewind four years, and immuno-oncology – which enhances the body's own ability to fight cancer – was a central pillar of Soriot's defense. Concern about this pairing's performance in tests is one reason why it has taken until this year for AstraZeneca shares to climb above the 55 pounds-a-share proposal from Pfizer and stay there. The shares slid 3 percent on Friday to just over 61 pounds.
Imfinzi remains a proven drug in earlier stage lung cancer, and trials in combination with chemotherapy continue. But it is the other new treatments in AstraZeneca's portfolio that have most supported Soriot's standalone strategy.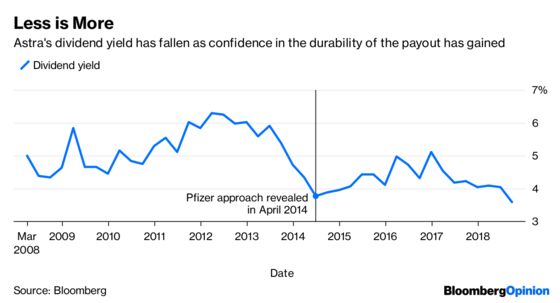 Delivering on the entire defense plan was always a long shot. Recent years have been a financial struggle, with AstraZeneca falling back on asset sales and partnerships to bring in extra revenue as existing drugs have lost patent protection. Even with this boost, the group has struggled to earn more than it pays out in dividends.
Despite the latest upset, the direction of travel looks positive. Recent third-quarter results showed a return to underlying sales growth. A falling dividend yield shows confidence that AstraZeneca's pay-out, unchanged for years, will become affordable. The drugmaker's valuation, based on a multiple of earnings, is substantially greater than that of its peers, a deterrent to any fresh bid.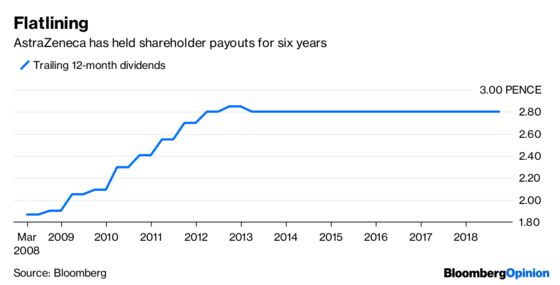 Contrast this with U.K. rival GlaxoSmithKline Plc, whose investors remain nervous about its ability to also get to the point of dividend sustainability.
GSK's dividend yield is still more than 5 percent. True, the pay-out looks likely to be covered by next year's free cash flow, but that's largely because the pound's weakness has lowered the cost of the bill – the greatest proportion of group sales come from the U.S. GSK has also exercised extreme discipline in R&D: it spends less as a percentage of sales than its rival.
AstraZeneca's latest trial data is a disappointment for investors and, above all, for patients. The strong performance of Pfizer shares since the takeover attempt means Soriot isn't wholly vindicated just yet. R&D is risky, but it's the only way to have a business in the long-term.
This column does not necessarily reflect the opinion of the editorial board or Bloomberg LP and its owners.
Chris Hughes is a Bloomberg Opinion columnist covering deals. He previously worked for Reuters Breakingviews, as well as the Financial Times and the Independent newspaper.