Aston Martin's Valkyrie Has a Lot Riding On Her
(Bloomberg Opinion) -- Aston Martin's vehicles are luxurious but the company itself remains pretty hard-up. Fortunately, the British manufacturer – which is gearing up for an intial public offering – has been able to lean on its customers for a financial handout.  
The carmaker has more than half a billion pounds of net debt and it generates hardly any free cash flow. Brexit is fast-approaching, which probably won't be good for a carmaker with such a large U.K. exposure. It's odd, then, that Aston Martin isn't seeking to raise any money in the  share sale. In fact, the IPO will cost it almost 50 million pounds ($65.2 million) in cash terms this year, according to the prospectus.
That won't bother its Kuwaiti and private equity owners too much. They plan to sell one-quarter of their holdings, which could net them more than one billion pounds. On Monday, the company said the books were already covered at a price range of 18.50-20 pounds a share. That's within an initial band set last month, though a bit short of its highest aspirations. For his efforts, chief executive Andy Palmer stands to receive shares worth more than 25 million pounds.
Aston Martin insists it doesn't need a fresh injection of money. But that's in no small part because its coffers have been boosted by customer deposits on so-called "special edition" vehicles; effectively offering a free form of finance. Unfortunately, it's doubtful whether this practice is sustainable and Aston Martin has disclosed very little information on the subject to potential investors (judging by the prospectus.)  
Last year, the company produced 270 special edition models, or about 5 percent of its total unit sales. The price tag, and hence the deposit required to get on a waiting list for such vehicles, can be steep. In 2016, Aston Martin said 150 customers who ordered a 2.4 million pounds Valkyrie supercar were obliged put down a 500,000 pound advance, even though the car won't be delivered until 2019. More recently, customers who want a DB4 GT Zagato Continuation were told they must agree to purchase two vehicles – for a combined 6 million pounds. 
Martin Kennington, marketing boss at luxury car lender JBR Capital, says a 25 per cent deposit is pretty typical, and buyers would typically be required to pay further installments as the production date nears. Hence, a carmaker like Aston Martin will probably have received most of the customer's payment long before a special edition car goes into production.
These cash infusions aren't usually sitting in an Aston Martin bank account somewhere – it held slightly more than 70 million pounds of cash at the end of June. Instead, the company uses them to finance its heavy spending. Last year's capital expenditures, including vehicle development costs, gobbled up an eye-watering one-third of revenue.
Aston Martin has argued that it should be valued like Ferrari NV, although I've written before of the many reasons why such a comparison isn't appropriate. But in view of its aspirations, you'd at least hope that Aston Martin would provide the same level of financial transparency. Ferrari's accounts show it holds about 113 million euros of customer advances, about 3 percent of annual sales. Similarly, Tesla Inc. has about $942 million of customer cash (8 percent of sales.) Aston Martin reveals very little about deposits, other saying they've been "significant" for certain models and have contributed to cash flow. Still, it's possible to take an educated guess.
At the end of June, Aston Martin's balance sheet showed an astonishing 565 million pounds of so-called "trade and other payables" – a line in the accounts that shows money owed to suppliers (which would in Aston's case, include those customer deposits.) That 565 million pounds is equivalent to more than half of yearly revenue.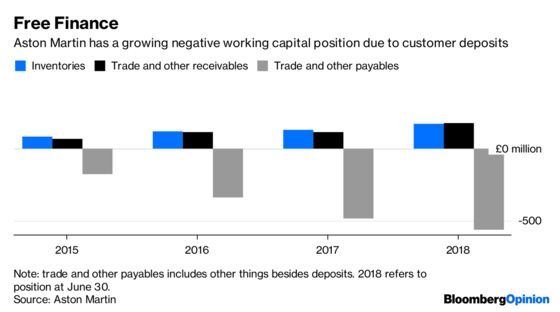 These aren't all customer deposits, but they're probably a big chunk of the total. By my very rough estimate, customer advances are probably more than 200 million pounds (if you take a midway point between assuming they get deposits worth 25 percent or 50 percent of their supercar ranges – see table below.)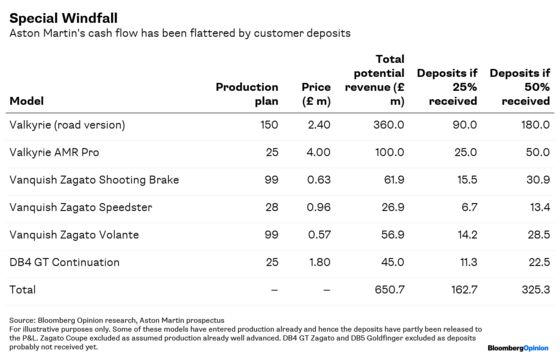 Funding the company like this is pretty clever in some respects. It means the owners haven't had to raise additional debt or put in more equity themselves. However, in accounting terms, customer deposits aren't a gift. They're "debt-like liabilities that increase leverage," according to Fei Teng, a Berenberg analyst.
One of the problems with booking so much cash upfront, is that actually producing the high-specification cars will create cost but not as much cash in future years. Also, the deposits flatter the company's present ability to generate cash. Excluding a 150 million improvement in working capital, which was largely deposit-related, Aston's Martin's free cash flow was still deeply negative last year.
So unless the company can keep booking orders for special edition cars year after year, its finances could deteriorate again. Prospective shareholders should worry that its wealthy customers might not always be so generous. 
This column does not necessarily reflect the opinion of the editorial board or Bloomberg LP and its owners.
Chris Bryant is a Bloomberg Opinion columnist covering industrial companies. He previously worked for the Financial Times.