Aston Martin: Love It or Short It
(Bloomberg Opinion) -- Aston Martin's initial public offering is already running on empty. Shares of the luxury carmaker fell 6 percent in their London debut on Wednesday. Take it as proof that this is a highly divisive stock that will acquire a sizable following of short sellers.
There had apparently been more than enough interest in Aston Martin Lagonda Global Holdings Plc for its bankers to sell 25 percent of the company at 19 pounds a share, giving the business a market value of 4.3 billion pounds ($5 billion). But having buyers for more than twice the stock available is no guarantee an IPO will do well. Investors have a nasty habit of requesting more shares than they really want, conscious they may get less than they ask for.
Now consider Aston's investment case. It rests on getting a succession of new models off a new production line, and then selling them. If Aston hits its medium-term targets and can command the kind of multiple afforded to a luxury-goods company, the IPO price makes sense. If the carmaker can earn a Ferrari NV-style valuation, shareholders will be sitting pretty. But if there's any slippage either in production or sales, the drop in its valuation will be steep.
This is going to be a stock that attracts high-conviction bulls and bears. Analysts at Canaccord Genuity price the absolutely-everything-goes-right case for Aston at 20.65 pounds a share and the bear case at 10.46 pounds.
It's not easy to short-sell an IPO. Borrowing the stock can be tricky, so the skeptical investor may have to go "naked" — committing to sell without the certainty of being able to deliver the shares to the buyer.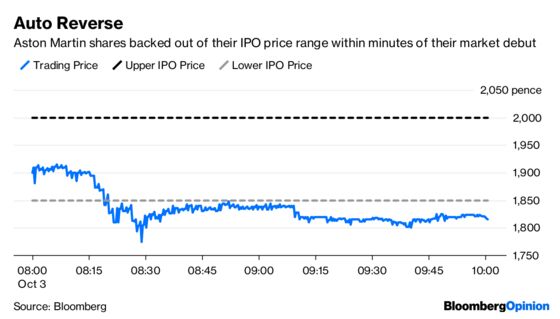 But where they have conviction, investors will take that risk. It took only 10 minutes for Aston to skid below its issue price. That in turn probably triggered stop-loss selling by those who bought in the IPO. This tends to be self-reinforcing. In the next 13 minutes, Aston fell 4.7 percent, and has since slid below 18 pounds a share.
Investors' aversion to losing money may have been heightened by the fact that they haven't made much from European IPOs this year.
Goldman Sachs, the investment bank running the offering, is likely to be buying the shares in the market to support the price — as is its job. It starts out with a short position in the stock that would be covered by such purchases. But this stabilization process cannot go on forever. Aston will have to stand on its own four wheels one day.
Aston isn't alone. Funding Circle Holdings Plc, the online lending marketplace, has fallen 13 percent since going public on Friday. You either believe in its story or you don't. 
No IPO should be judged on its early hours or weeks of trading. Ferrari fell 38 percent in the first four months after its debut. Nearly three years later, it is 165 percent up on its issue price. But Europe's IPO market is getting trickier. If Aston and Funding Circle add to the list of loss-making deals, investors' risk appetite is going to be even smaller when the next comes along.
As for Aston's Italian private-equity and Kuwaiti owners, they have got out above the market price — but they still have a lot more to sell.
This column does not necessarily reflect the opinion of the editorial board or Bloomberg LP and its owners.
Chris Hughes is a Bloomberg Opinion columnist covering deals. He previously worked for Reuters Breakingviews, as well as the Financial Times and the Independent newspaper.