Asia's Technology Bear Isn't Ready to Hibernate
(Bloomberg Opinion) -- One's a bear and a half while the other's more of a cub.
Until recently, U.S. technology companies seemed immune to the escalating trade war with China. Their Asian peers, meanwhile, have collapsed.
The FAANG stocks – Facebook Inc, Apple Inc., Amazon.com Inc., Netflix Inc. and Google parent Alphabet Inc. – have fallen an average of 17 percent from their one-year high. By comparison, China's BAT trio of Baidu Inc., Alibaba Group Holding Ltd. and Tencent Holdings  Ltd. has tumbled twice as much. A stock is commonly said to be in bear territory after a decline of 20 percent.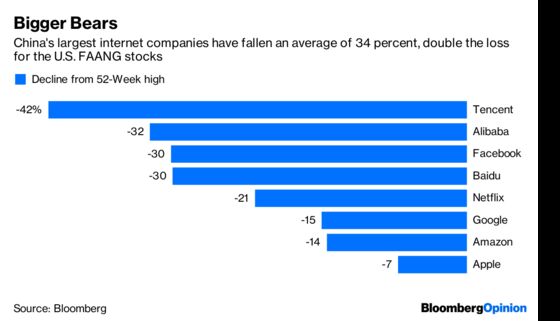 The billion-dollar question is whether it's time to buy the dip in Asia's technology giants, or whether the FAANG stocks will start to carry the brunt of the selling. The risk is greater for U.S. firms because Alibaba and Tencent are "cash flow machines," CLSA argued in a recent note.
Cash cows they may be, but there are still plenty of reasons to sell. For one, the venture-capital model, spearheaded by SoftBank Group Corp. and cherished by Chinese technology giants, is broken.
Tencent's spectacular plunge illustrates the issue. Its shares are down more than 40 percent from their one-year peak, underperforming Alibaba by about 10 percentage points. 
Granted, as the largest stock in the benchmark MSCI Emerging Markets Index, Tencent may be subject to heavier selling pressure when global investors flee the asset class. Beijing's clampdown on its lucrative gaming business has also weighed on the stock.
Investors are also starting to ask how much vision Tencent has as a venture capitalist. The company has spent more than $20 billion this year on acquisitions, on top of $45 billion in the previous two. That's far more than China's other tech firms.
But shareholders have seen no rewards: In the year ending in June, Tencent reported 1.9 billion yuan ($275 million)  in losses from investments in associates.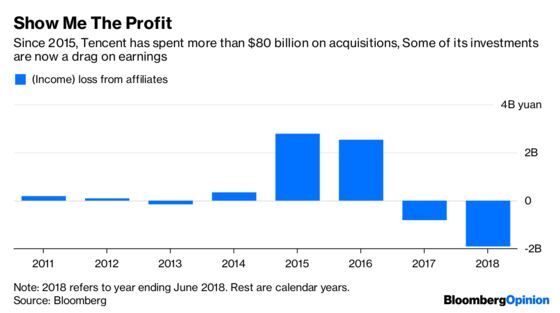 Since 2017, Tencent has notched more tech IPO exits than any venture-capital firm, taking 17 startups public. However, a fair number have been disasters. Two-thirds are now trading below their IPO price, according to data compiled by Smartkarma analyst Arun George.
Investing in tech startups in an environment of rising interest rates is dangerous. These young firms often won't see any earnings for years to come. What's the worth of future cash flows if their discount rates keep climbing?
SoftBank paints a similar picture. Its shares churned along happily until September, as short sellers shied away from the risk that the merger between its Sprint Corp. subsidiary and T-Mobile US Inc. might win U.S. antitrust approval.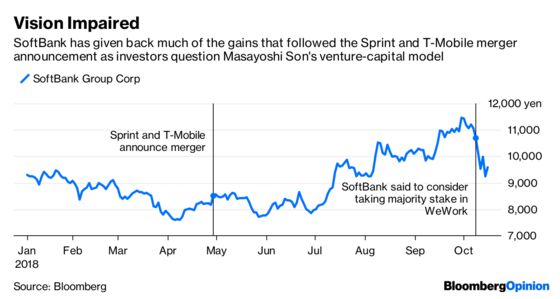 That calculation changed this month. Investors started to revolt after reports that SoftBank is looking to take a majority stake in WeWork Cos.
The co-working startup is a furious cash-burner, and more than doubled its net loss to $884 million last year. SoftBank founder Masayoshi Son may have decided to take control after being unable to find any other suitors. We all know unicorn valuations are becoming frothy, thanks in part to SoftBank's own $100 billion Vision Fund. 
The FAANGs, on the other hand, aren't fans of M&A. They expand organically. Among them, the only big-ticket acquisition was Amazon's $13.6 billion purchase of Whole Foods Market Inc. in June 2017.
Cash is king when the world's most prominent central bank is mopping up easy money. These days, it's better to show you know how to preserve it than spend it.
This column does not necessarily reflect the opinion of the editorial board or Bloomberg LP and its owners.
Shuli Ren is a Bloomberg Opinion columnist covering Asian markets. She previously wrote on markets for Barron's, following a career as an investment banker, and is a CFA charterholder.