Apple Supplier's IPO Has Shiny Shell, Low-Tech Core
(Bloomberg Opinion) -- The introductory video for its IPO is slick and clean, ticking off all the right keywords: robots, intelligence, big data, Internet of Things.
But the reality is that Terry Gou's Foxconn Industrial Internet Co. is more low-tech and mundane than the flashy presentation it's selling to investors.
Metal shells and internal frames of iPhones are the mainstay of FII's revenue, while industrial robots barely contribute.
What's more, the spinoff from Hon Hai Precision Industry Co. is deeply reliant on Apple Inc., garnering 20 percent to 30 percent of revenue from Cupertino. That's not as bad as the 51 percent the iPhone designer contributed to Hon Hai last year, yet 73 percent of FII's revenue came from its top five customers including Cisco Systems Inc., Dell Inc. and Amazon.com Inc.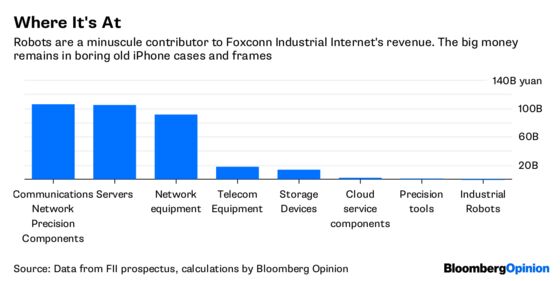 As Bloomberg's Debby Wu wrote, Gou's FII is "a division that best embodies his hope of becoming a major player beyond just cranking out iPhones." By listing the business in Shanghai, Foxconn wants to tap into richer valuations from Chinese investors at a time when shares in Taipei-traded parent Hon Hai are struggling to rebound after a 34 percent slide from their peak in June. Hon Hai expects to raise $4.3 billion from the sale, valuing FII at $43 billion.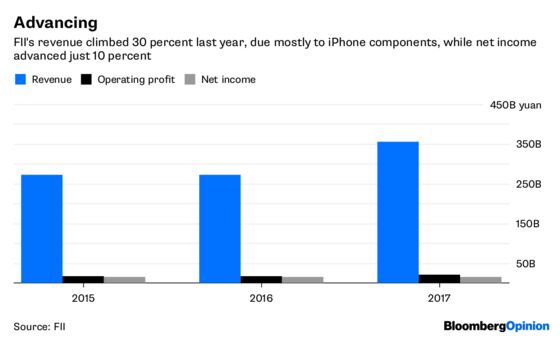 FII's product catalog includes servers, storage devices, network switches, routers and robots.
Metal casings and internal frames for smartphones come under the fancy title "communications network precision components," a category that posted an 86 percent increase in revenue last year — thanks to the iPhone and other devices — and contributed around 32 percent of the corporate total. Networking equipment, mostly switches and routers, came next at about 27 percent.
Robots, the category that's attracted much hype and hope, provided less than 1 percent of sales.
In fact, tax rebates are a bigger financial contributor to FII than automation, tools, or even storage.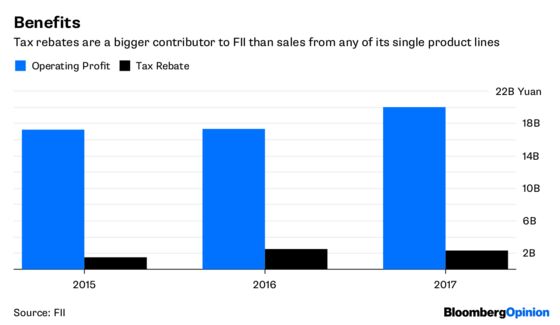 What's worse, shipments of industrial robots to external customers fell last year to 3,500 units from 6,100 in 2015, an indication that this may not be a growth business after all, despite Gou's insistence. Its robots aren't even among the industry's most high-end offerings, which start at four times the $12,000 price of an FII machine.
In promoting FII to Chinese investors, Foxconn's selling the story of a smart-factory business with a high-tech future. Shareholders will surely be getting a factory, but perhaps it's not so smart.