An Old-School Budget Lesson for Macron
(Bloomberg Opinion) -- It's a tale worthy of Molière. The academy that teaches French elites how to manage the country can't manage its own finances. The Ecole Nationale d'Administration (ENA), the country's most prestigious civil-service boot camp and alma mater of French President Emmanuel Macron, lost about 2.8 million euros ($3.25 million) last year, in a budget of around 41 million euros, and is cutting jobs to try and get back in the black by 2020, according to newspaper Le Parisien. It could do with a bit of Macron-esque reform.
The ENA is the ultimate symbol of the French education system writ large: grueling, selective and meritocratic to some -- elitist, narrow-minded and inflexible to others. The preparation alone for its entrance tests usually requires years of higher education. The school takes in fewer than 100 30-somethings a year and trains them for powerful roles in government, politics or industry. The very exclusivity that gives the ENA its brainy glow also makes it staggeringly non-diverse, coddled and unpopular. It has attracted criticism for being too cliquey, too clubby, and too old-school.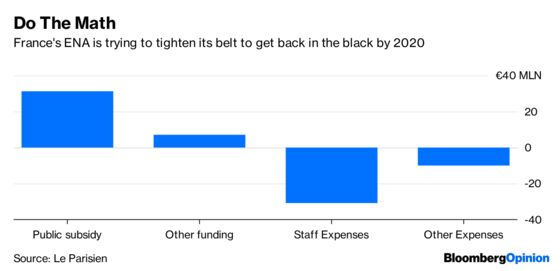 While this is the kind of accusation that could be leveled at many a U.S. Ivy League institution, the ENA's finances show some big differences. Unlike the market-driven economics on display in Britain or America, where fat tuition fees and student loans fill the gaps left by government, this is an academy almost entirely reliant on public subsidy -- to the tune of 31 million euros. This then goes straight back out the door in the form of staff costs, including a civil-service stipend of 1,682 euros a month paid to every student. This may seem egalitarian and affordable for those consuming the school's product, but many taxpayers will likely view it as inefficient redistribution and an investment loss. Given that so many graduates end up in the private sector anyway, it can seem a bit of a waste.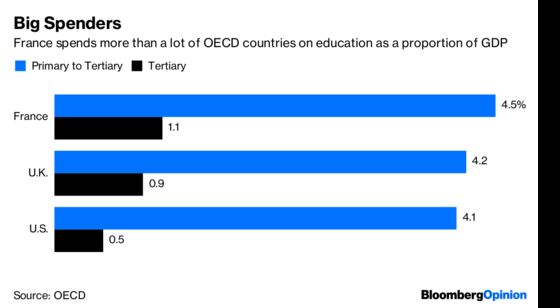 There are parallels here with the broader system. France's education spending is in line with the European average, according to Deutsche Bank, but its quality is deteriorating, and is greatly influenced by parents' socioeconomic backgrounds, according to the OECD. As welcome as it is to have a system without crushing student debt or staggering tuition fees, the rewards of meritocracy aren't fairly shared. Attempts to bring in more students from disadvantaged backgrounds to the ENA -- complete with trips to the opera -- haven't always worked. Macron has rightly bemoaned the lack of diversity among those attending his old school. More is needed.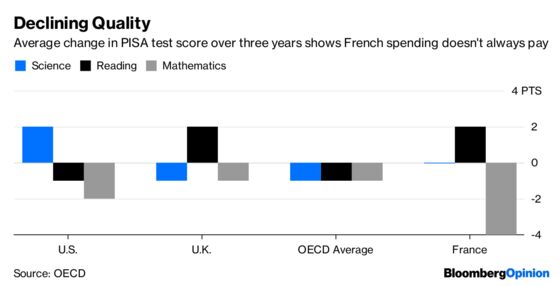 Given that Macron is pushing new reforms designed to get more young people into work and relax the grip of civil-service academies on public-sector jobs, why not inject the kind of efficiency taught at more business-minded schools like Insead? Subsidies could be given on stricter means-tested terms, private funds or partnerships with other institutions could be found, and the school's location in Strasbourg could be promoted as a more European hub. A network of high-flying alumni could help tame the threat of brand dilution for a school like ENA -- whose whole aura depends on being incredibly selective -- by contributing more funds and participating more in its management. (The ENA is so regularly bashed in public that its own alumni, including Economy Minister Bruno Le Maire, have called for it to be shut down.) France is promoting itself as a continental refuge from Brexit, complete with new international schools, so why not revamp higher education too?
When colleges die, they do so through spiraling costs, falling demand and eroding government support. France's elite training grounds may not be in mortal danger, but they aren't immune from these pressures. If people feel they can get a good job, decent purchasing power and access to social mobility without putting themselves through years of intense mental training, it doesn't take a rocket scientist to work out what happens next.
This column does not necessarily reflect the opinion of the editorial board or Bloomberg LP and its owners.
Lionel Laurent is a Bloomberg Opinion columnist covering finance and markets. He previously worked at Reuters and Forbes.