AMS Stung By the Cold New World for Apple Suppliers
(Bloomberg Opinion) -- Apple Inc.'s mastery of supply chain management strikes again.
Austrian chipmaker AMS AG, which supplies 3-D sensing components for the iPhone, said late Monday its adjusted operating margin will drop to between 16 percent and 20 percent of sales in the fourth quarter, down from 27 percent a year earlier. The shares fell as much 32 percent on Tuesday morning.
The rout is totally understandable. The company's gamble on the sensing technology looks like it has backfired. And the bonanza paydays from being an Apple supplier are reaching their end.
The drop in the margin shows the heavy pressure that Apple is exerting on its suppliers to cut prices, according to Robin Brass, a Frankfurt-based analyst for Hauck & Aufhaeuser Privatbank. As global smartphone sales plateau, Apple needs to squeeze as much profit as it can out of each handset to sustain growth.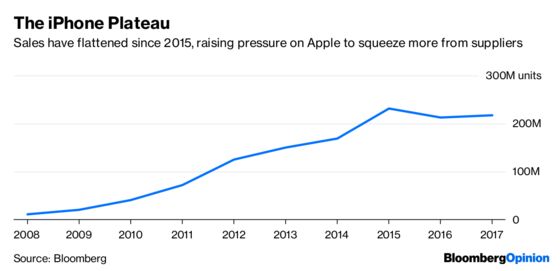 That's bad news for AMS, whose capital expenditures jumped more than six-fold last year as it invested in new manufacturing capacity to satisfy anticipated demand for iPhone components. The pace of that spending looks to have been ill-judged. AMS makes vertical cavity surface-emitting lasers that are used in Apple's Face ID facial recognition system.
Revenue will rise to between $570 million and $610 million in the fourth quarter, AMS said. That's a relatively modest increase from the $554 million it made a year ago, even though it boasted of contract wins from Xiaomi Corp. and two other Asian smartphone makers it declined to identify. It's also a disappointment to analysts, who forecast $646 million.
Apple introduced three new iPhones last month, the XS, XS Max and XR, all of which incorporate versions of Face ID. It's also likely to unveil iPads using the technology next week. AMS's disappointing sales outlook might suggest that Apple isn't expecting significant growth in unit sales for the quarter. It may also indicate a change in the supply chain mix – the Cupertino, California-based company may have decided to source more components from the likes of Lumentum Holdings Inc. and Finisar Corp.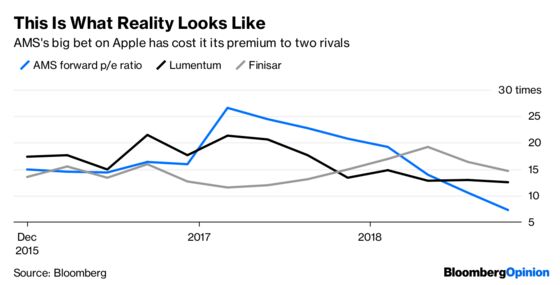 AMS now trades at a significant discount to both companies. That might be justified in comparison to Lumentum, which has a proportionately smaller debt pile and outsources more production, but harsh in comparison to Finisar, which has a higher debt to Ebitda ratio but trades at twice the price to earnings ratio of AMS.
AMS will still make money and ultimately deliver a return on its investment. But it looks like it's going to take a lot longer than anyone expected. The shares may now reflect that.
This column does not necessarily reflect the opinion of the editorial board or Bloomberg LP and its owners.
Alex Webb is a Bloomberg Opinion columnist covering Europe's technology, media and communications industries. He previously covered Apple and other technology companies for Bloomberg News in San Francisco.