How a Migraine Drug Is Easing the Headache of High Prices
(Bloomberg Opinion) -- Drug prices in the U.S. will continue to be the highest in the world for some time to come, President Trump's plan notwithstanding. But an unexpected move from Amgen Inc. suggests some progress is being made at the source on bringing down costs.  
The company's new migraine drug Aimovig, which will be sold in collaboration with Novartis AG, was approved Thursday evening by the FDA. The drug, which can substantially cut headache frequency and severity, will cost $6,900 a year rather than $10,000 or more as some predicted.
The migraine market is large, and a lot of people are clamoring for this new medicine. Aimovig is the first drug of its type to get approved, so the pricing decision was more consequential than most. This time, Amgen and Novartis got it right. It's a pragmatic decision, and could serve as a blueprint going forward.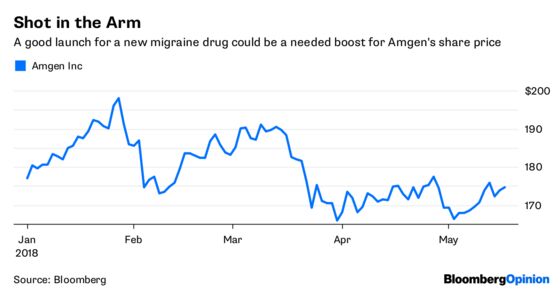 If Aimovig were priced at the top of the expected range, Novartis and Amgen would have risked restrictions, a slow launch and public outcry. With Eli Lilly & Co.'s similar drug likely to hit the market later this year, and likely entries from — the middlemen of the market — would have every reason in the world to slow uptake of Aimovig until they can use those other entries to spark a price war. The lower price defuses some of that incentive, and in fact, Amgen on a post-approval call Friday said PBMs seemed to be ok with it.
Amgen's pricing decision may also help it avoid the type of bruising journey it has endured with its novel cholesterol drug Repatha since its 2015 approval. 
Millions of people have high cholesterol, and most are able to control it with cheap generic statins. The prospect of a mass switch to a $14,000 a year alternative was unpalatable to PBMs and insurers, and they threw up roadblocks, making the medicine exceptionally difficult to obtain. Sales growth has been so slow that Regeneron Pharmaceuticals Inc. and Sanofi are now giving massive discounts to PBM giant Express Scripts Holding Co. for their competing drug Praluent in an attempt to get some kind of market traction.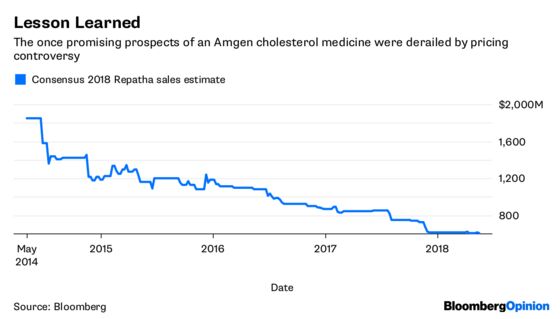 Amgen's strategy with Aimovig may not keep PBMs from attempting some delay tactics, but it's clear that the drugmaker has learned from its experience. Given pent-up patient demand and the low entry price, the medicine should be relatively accessible. Going low is a particularly smart strategy, because Aimovig will have the market to itself for only a few months.
The price is going to come down no matter when other entrants arrived, so getting as many patients as possible to adopt its medicine is more important in the long run than making as much money as possible on a only few months of sales. Once patients are taking the drug, it will be an expensive and difficult proposition for other companies to get them to switch.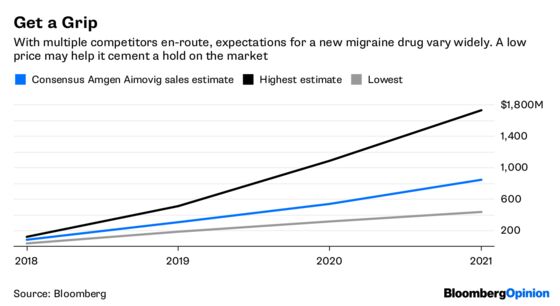 The public-relations element also must be considered.
In all likelihood, the real price for Aimovig would have been in this range even if Amgen had set a higher headline number after factoring in various discounts. But the Trump administration heavily criticized high list prices and secret PBM deals in its recent drug-pricing plan. This is the first major new drug to price since the plan was announced, and was clearly being watched closely. Doing the discounting up front was smart and timely. 
Other companies have priced below expectations recently. But this drug is a perfect candidate for premium pricing, given that it's the first medicine in an exciting new class for a population with a lot of unmet need. The fact that Amgen didn't go that route sets an important precedent — and not just for Lilly, Teva and Alder,  but for the broader industry as well.