America a Gambling El Dorado? The Odds Are Long
(Bloomberg Opinion) -- When Mr. Burns draws up plans for a casino in "The Simpsons," he thinks he's found the perfect business: "People swarm in, empty their pockets, and scuttle off." 
Investors in the real world seem equally bullish. Shares in British betting companies GVC Holdings Plc and William Hill Plc have risen 50 percent and 20 percent respectively over the past year, despite a domestic crackdown on highly addictive roulette and poker machines. Yet with a chunk of that enthusiasm riding on anticipated success in the U.S., some caution is warranted.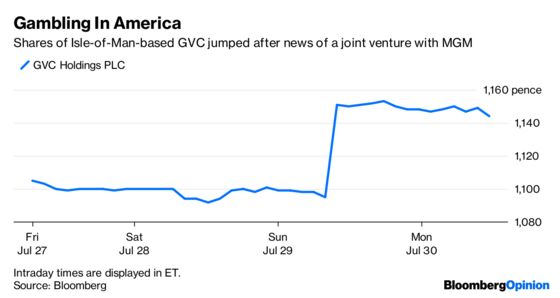 America is being tipped as a gambling El Dorado after a federal ban on sports betting was lifted earlier this year. New state entrants such as Delaware and New Jersey are allowing wagers, hoping to chip away at Nevada's decades-old dominance.
Incumbent U.S. casino operators already have regulatory licenses and market share, giving them a strong hand. But European rivals spy an opening, especially with the technical expertise they've built up in online gambling over the years. Shares of GVC jumped almost 8 percent on Monday on news of a $200 million sports betting venture with MGM Resorts International.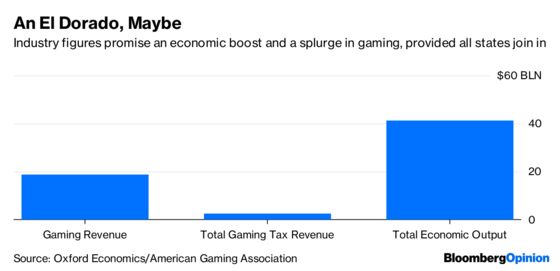 You can see why the Brits are keen, but it's still hard to gauge the actual size of the pot. A lot depends on how many states take the plunge. MGM reckons the annual revenue potential for sports betting is $5 billion by 2024, and that 10 states may legalize it within five years. Barclays analysts predict the market opportunity could be anywhere from $6.6 billion to $19 billion in the next 10 years, assuming 42 states enact regulation. Shore Capital expects a market size of $20 billion, again assuming nearly all states take part.
Adoption is a long road, though, and much is up in the air. Broadcaster ESPN has estimated that 25 states have made no legalization move, and of the 18 states that have introduced bills, discussions are at very different stages. So far, three states have full legalized sports betting in place, and five have recently passed a bill.
While it's fair to assume that competition between states for this business will create momentum, tempting American punters onto regulated betting platforms will take years. Paul Leyland, a partner at consulting firm Regulus, says growth will be patchy in the near term.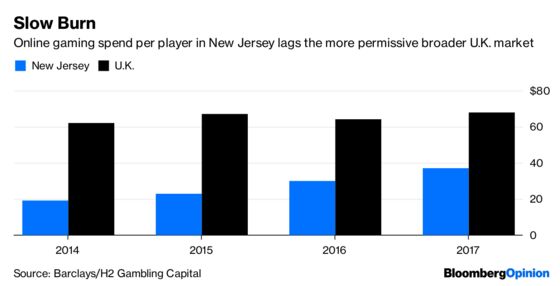 There may be unexpected costs too if expansion takes off. Like many "vice" businesses, gambling is incredibly profitable. Barclays estimates an industry gross profit margin of 81 percent in its U.S. forecasts, which other industries would kill for. But states will no doubt want compensation for their part in fighting fraud, money-laundering and addiction. That could lead to additional taxes, possibly at or above 15 percent.
States are also under pressure to apply an "integrity" tax to help sports leagues apply better safeguards against match-fixing. Any compliance slip-ups will be costly for gambling companies. Brokerage firm Cantor Fitzgerald paid a $22.5 million fine in a money-laundering probe related to sports betting.
Indeed, there's always the possibility of legal surprises in gaming. In 2006, U.S. legislators shocked international betting companies with a crackdown on online gambling payments, leading some operators such as 888 Holdings to suspend their U.S. activities.
None of this is likely to scare off profit-hungry Europeans, especially in light of the regulatory squeeze back home on one of their cash cows. Teaming up with a local player as GVC has done is a smart way to buy into the game. But given the politics that swirl around this industry, and the fierce competition, this is still a long-odds punt.
This column does not necessarily reflect the opinion of the editorial board or Bloomberg LP and its owners.
Lionel Laurent is a Bloomberg Opinion columnist covering finance and markets. He previously worked at Reuters and Forbes.