Amazon Finds It's the Wrong Time to Disappoint
(Bloomberg Opinion) -- It takes a lot for Amazon.com Inc. to spook investors, but it managed to do so with its Thursday earnings report.
The e-commerce giant said its quarterly revenue rose 29 percent from a year earlier. That pace of revenue growth was within the range that Amazon had forecast, but its $56.6 billion in sales was still below what analysts were predicting, and the shares tumbled in after-hours trading.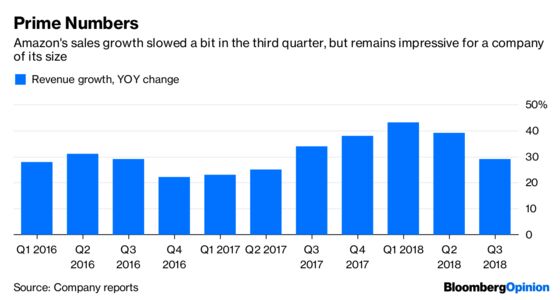 I don't blame investors for reading this report and promptly wiping out the strong gains Amazon shares had enjoyed as part of a broader market rally during the trading day Thursday. The fact is, it's been a rocky week for tech shares, and amid trade-war jitters and concerns about margin pressures and an earnings peak, investors aren't in a particularly forgiving mood. 
Investors in Alphabet Inc. reacted equally skittishly Thursday to an earnings report that was broadly in line with analyst forecasts, sending the shares down about 5 percent in late trading. The Google parent continues to accelerate investment in projects like Pixel phones, YouTube content and cloud data centers that may not break even for some time. And with Google paying more and more to ensure its search engine gets prime placement on smartphones, the nervousness is understandable.
As for Amazon, there are a number of data points here that point to dents in its armor. For one, sales growth in its online stores division slowed to 11 percent over a year earlier. In theory, that could be seen as forgivable, as Amazon is growing off an absolutely massive sales base. And as that business matures, it's practically inevitable that the pace will slow. Plus, Amazon is becoming increasingly reliant on third-party marketplace sales, which isn't a troubling shift, since those transactions are often more profitable.
But Amazon also saw a slowdown in revenue growth this quarter from its third-party seller services segment. Looking at those figures together, you can't help but think that Amazon's still-formidable online shopping ecosystem has lost a bit of momentum heading into the crucial holiday season. (And speaking of holidays, it is noteworthy that these slowdowns occurred in a quarter that includes the shopping holiday of Amazon's own creation, Prime Day).
It's also worth pointing out that Amazon's outlook for the fourth quarter wasn't exactly screaming happy holidays. It'd be one thing if it was just the outlook for operating income that was tepid, given that Amazon has pledged to raise its minimum wage on Nov. 1. That will understandably take a bite out of profit, but it is an investment worth making to compete for talent and keep Washington lawmakers at bay. But the sales guidance, too, was also lackluster, with Amazon calling for an increase of between 10 percent and 20 percent. Given how strong I expect the holiday season to be for the wider retail industry, it's surprising Amazon doesn't expect to get more of a lift. 
Still, for a long time now, much of the reason to be optimistic about Amazon was its lucrative cloud-computing division — and that business looks plenty healthy. While sales growth slowed, operating income at the Amazon Web Services unit soared 75 percent over a year earlier. And the operating margin in this business grew to 31.1 percent of sales, a significant improvement over the 25.5 percent margin it recorded in the same quarter last year. Even in the immediately prior quarter, operating margin was just 26.9 percent. 
Plus, whatever softness it experienced this quarter, Amazon's revenue is still increasing at a pace that leaves practically every mature retailer in the dust. It has built a market share advantage online that, at this point, seems impenetrable, and nothing about today's results changes that.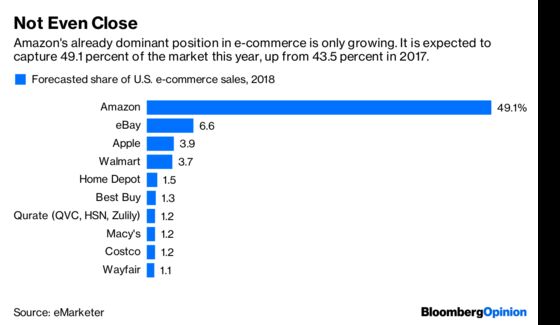 Investors, as we've learned time and again, are loathe to punish Amazon for skimpy profits. But apparently, they have little patience for anything but blistering sales growth at a time when consumer confidence is high and when traditional retailers are getting better at encroaching in Amazon's digital turf. 
This column does not necessarily reflect the opinion of the editorial board or Bloomberg LP and its owners.
Sarah Halzack is a Bloomberg Opinion columnist covering the consumer and retail industries. She was previously a national retail reporter for the Washington Post.