Juul, Cannabis, Then an Even Bigger Deal for Big Tobacco?
(Bloomberg Opinion) -- The long-held supremacy of the old guard in consumer products — whether in the food, beverage and beauty aisles or behind the counter on the cigarette shelves — is now being tested by popular upstarts. But Altria Group Inc., parent of the 94-year-old Marlboro brand, is saying, not so fast.
The $105 billion tobacco giant has reportedly entered talks to buy a significant minority stake in Juul Labs Inc., which in 2015 introduced e-cigarettes that have since, quite controversially, become a hot commodity among teens. Juul was valued at about $15 billion in its latest round of fundraising, which would make this one of Altria's largest deals ever. 
News of the potential investment is sparking a mini-revival in Altria's shares, which had fallen for a record streak of 11 days through Monday. The stock was down about 25 percent for the year, its worst performance since 2008. Tobacco shares took a hit amid the revelation that the U.S. Food and Drug Administration is looking into a ban on menthol-flavored cigarettes, which account for a chunk of the industry's profits, including a fifth of Altria's haul. Smoking rates also continue to gradually decline.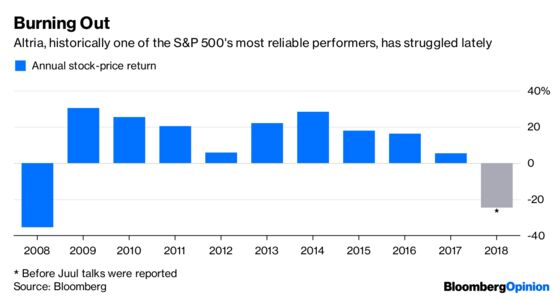 Those are challenges over which Altria has little control, but the new competition from Juul was something it could easily solve by writing a check. Altria's net debt is barely more than the $10 billion or so of Ebitda that the business generates each year. It had more than $7 billion of free cash flow in the 12 months through September. Tacking on a premium, that's about how much it might cost for a 40 percent stake in Juul. 
The talks with Juul come after reports last month that Altria is separately considering a stake in Aphria Inc., one of Canada's fast-growing cannabis producers. Not only is it about time that Altria make serious inroads into the cannabis space, it's yet another sign that the company's leaders are becoming more active dealmakers.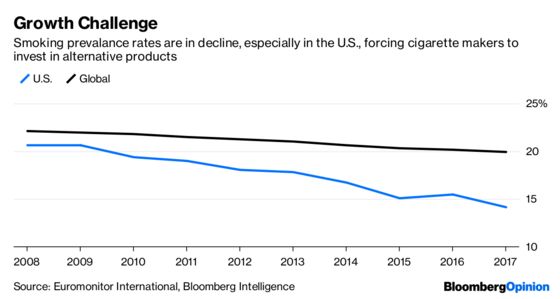 An even more significant transaction may bud from these others. For a few years, I and others have speculated that Altria would recombine with Philip Morris International Inc., its $135 billion sister company and former overseas division that sells tobacco products outside North America. A decade after Altria spun off Philip Morris, the time may finally be right to merge again, and Juul may be what brings them together. 
Philip Morris developed and sells iQos, a device that heats a mini tobacco stick (a method it claims is safer than burning tobacco) and is key to both companies' smokeless futures. Altria has a licensing agreement to sell that product in the U.S. once it receives approval here. Bonnie Herzog, an analyst for Wells Fargo & Co., notes that Juul and iQos could be complements, given that "Juul appeals to millennials/hipsters and iQoS appeals to slightly older and more affluent smokers." Philip Morris also has the international platform to expand Juul's reach beyond the U.S.
If Altria and Philip Morris want to quit smoking, then deals — with Juul, cannabis businesses and one another — seem to be the most effective way to do it.
This column does not necessarily reflect the opinion of the editorial board or Bloomberg LP and its owners.
Tara Lachapelle is a Bloomberg Opinion columnist covering deals, Berkshire Hathaway Inc., media and telecommunications. She previously wrote an M&A column for Bloomberg News.