Altice Debt Mountain Brings On a Bout of Vertigo
(Bloomberg Opinion) -- Investors are getting over-excited about the prospects for dealmaking in France's telecoms sector. Yes, there's a willing buyer in the form of conglomerate Bouygues SA. There's also an open-minded regulator, who has told Le Monde the door is "a bit open" for M&A. The snag is that it's hard to see the willing sellers.
Bouygues has held talks with European buyout firm CVC Capital Partners about a possible joint bid for the French business that represents the bulk of the worth of Altice NV, Bloomberg News revealed last month. That would create a strong challenger to market leader Orange SA, at the expense of cutting the number of big French telecoms companies from four to three.
It's easy to see why regulator Arcep may see consolidation as a net benefit. Orange, Altice, Bouygues and upstart Iliad SA have been locked in a furious competitive bout of price-slashing for customers. Investment in upgrading the network has suffered — albeit with some recent improvement. The creation of a second big player alongside Orange might shift the economics in favor of capital spending.
Shares in Altice, controlled by billionaire Patrick Drahi, jumped as much as 53 percent on Tuesday after adjusting for the coincidental spinoff of its U.S. business. Iliad gained as much as 6.7 percent, with Orange and Bouygues also climbing.
The Altice rise is partly a function of its leverage. The equity value was 4.2 billion euros ($5 billion) in late morning trading on Tuesday. Add net debt and the company has an enterprise value of about 35 billion euros. The French operation coveted by Bouygues accounts for probably two-thirds of that. So a modest boost to the perception of Altice's overall value has an outsized impact on its equity value.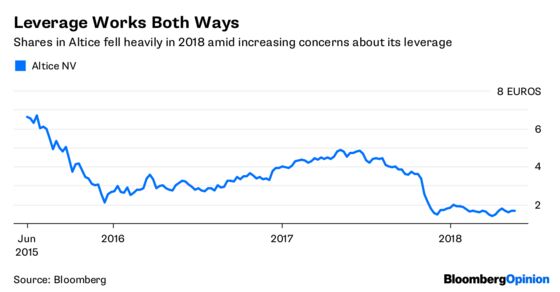 But don't hold your breath for a deal. Drahi isn't a forced seller. While massively indebted, Altice isn't facing significant refinancing hurdles for a few years. What's more, the struggling French business showed signs of stabilizing in the first quarter. The hope is that a sustained turnaround might improve the valuation.
For a transaction to happen, Bouygues would have to offer Drahi a price that beats what he believes that turnaround could be worth. Synergies are estimated by Bloomberg Intelligence to have a present value of 7.5 billion euros. That could help fund a punchy bid. But cost-cutting potential may be limited by the fact that Drahi has already done a lot of restructuring.
The tycoon might be tempted if he saw an appetizing acquisition target in the U.S., which would need equity financing from the proceeds of selling out of France. But again, that would require a big price. Drahi would only become a forced seller if that first-quarter performance proves to be a false dawn. 
With so much debt, he can no longer lead European telecoms consolidation. That doesn't mean he will make it easy for others to take his place.