Alibaba Takes the Easy Way Out of Easyhome
(Bloomberg Opinion) -- Alibaba Group Holding Ltd. is reducing its stake in a partly owned Chinese furniture retailer. This couldn't have come at a better time.
On Thursday, Shenzhen-listed department-store operator Wuhan Zhongshang Commercial Group Co. said it's issuing shares to Beijing Easyhome Furnishing Chain Store Group Co. The $5.6 billion transaction is an effective backdoor listing for the country's second-largest home-improvement chain. It also reduces Alibaba's stake to at least 5 percent just 11 months after the company bought up 15 percent of Easyhome, in the e-commerce giant's push toward bricks-and-mortar businesses.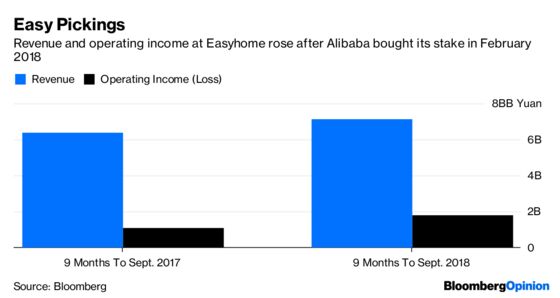 Chinese real-estate sales are falling and vacancy rates are rising, thanks to the slowing economy and an official drive to bring down leverage. That's bad news for the furniture market, whose fortunes are closely tied to the sale of new homes. 
Foreign retailers are also giving Chinese home-improvement firms a run for their money. Consider Japan's Toto Ltd., whose high-tech toilets are in hot demand.
Easyhome has the three-year profit track record required to go public in China, but its eagerness to sidestep the traditional process is understandable. Not only is there a long queue for regulatory approval, but China's IPO market has slowed massively. With a backdoor listing, Zhongshang also gains assets.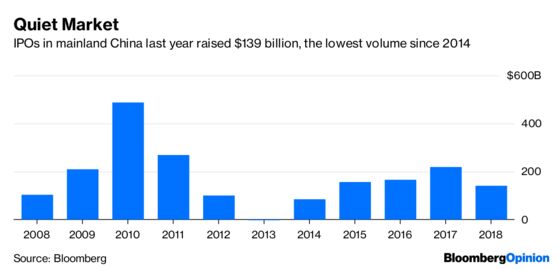 Investors should now prepare for some hiccups in China's booming furniture and household goods market. Alibaba certainly has.
This column does not necessarily reflect the opinion of the editorial board or Bloomberg LP and its owners.
Nisha Gopalan is a Bloomberg Opinion columnist covering deals and banking. She previously worked for the Wall Street Journal and Dow Jones as an editor and a reporter.