Alibaba Is Being Hurt by a War at Home, Not a Trade War
(Bloomberg Opinion) -- A Donald Trump-inspired trade war between the U.S. and China isn't the reason for Alibaba Group Holding Ltd. trimming its optimism.
China's e-commerce giant now sees full-year revenue of 375 billion yuan ($55 billion) to 383 billion yuan, the company announced Friday. That's 4 percent to 6 percent lower than it had expected previously.
But the weakness comes from a competitive war at home and domestic uncertainty more than global macroeconomic factors.
According to CFO Maggie Wu, since Alibaba's investor day in mid-September, management took a look at the weakening Chinese economy and decided to dial back how much money it makes from the 601 million sets of eyeballs that view its platform in China each year.  
In light of current fluid macro-economic conditions, we have recently decided not to monetize, in the near term, incremental inventory generated from growing users and engagement on our China retail marketplaces.
In other words, although user numbers are still rising, Alibaba is not going to boost the amount of ads it serves up to that growing base.
This looks like a smokescreen.
Customer management, the category impacted by this monetization freeze, climbed at less than half the pace of overall corporate revenue for the September quarter, dropping to just 39 percent of sales for the period from 48 percent a year earlier. This growth was already slowing, with that division climbing just 26.1 percent in the June quarter compared with 61.2 percent at the company level.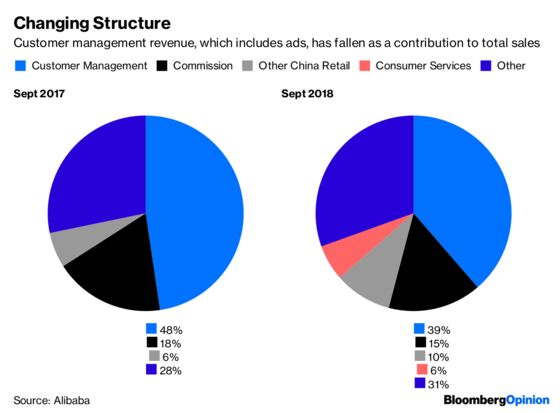 It's true that heightened concerns over China's domestic economy are forcing companies to curb their enthusiasm. Baidu Inc. this week forecast December-quarter revenue below estimates, citing a consumption slowdown among the factors. Yet tougher competition from the likes of Meituan Dianping and Pinduoduo Inc. can't be ignored. Alibaba also decided to double down on non-e-commerce offerings such as bookings and deliveries through the consolidation of Ele.me and Koubei.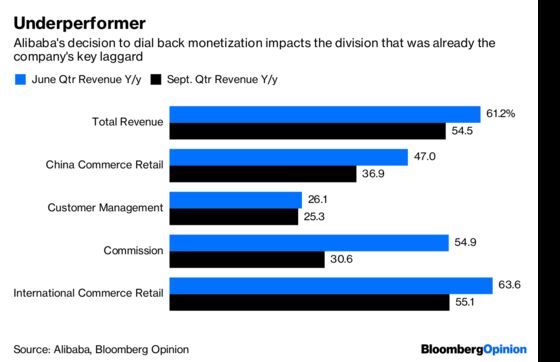 So while I take management at its word that merchants are feeling the pinch from China's economic slowdown, it's also true that this stiffer competition means that Alibaba faces some hard choices. It could keep pushing merchants to buy ads — which in turns spurs other merchants to buy ads just to keep up — and risk some sellers jumping ship altogether. Or it could dial back that dog-eat-dog competition and ensure e-tailers stick with them instead of moving to other platforms. It opted for the latter, betting that it will have a chance to hit them up later.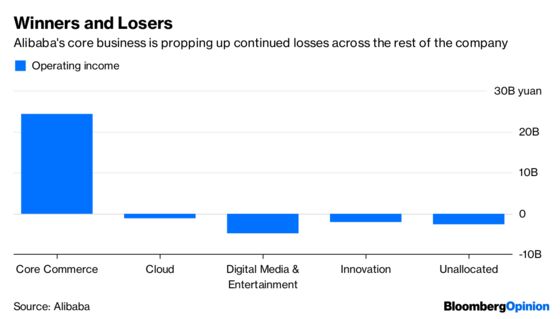 This revenue weakness is compounded by the fact that pretty much everything outside of China e-commerce is a drag on the bottom line. Ele.me, the food delivery business, was the single largest factor dragging down income last quarter. Meanwhile, Southeast Asian retailer Lazada, its brick-and-mortar business, and its Cainiao logistics arm all burned money for the period. Then there's the dumpster fires of digital content and cloud computing that persist in hurting the bottom line.
As the saying goes: Only when the tide goes out can you see who's swimming naked. Alibaba may want to grab a towel.
This column does not necessarily reflect the opinion of the editorial board or Bloomberg LP and its owners.
Tim Culpan is a Bloomberg Opinion columnist covering technology. He previously covered technology for Bloomberg News.