AbbVie Best-Seller Humira Shows Its Mortality
(Bloomberg Opinion) -- It's pretty nice to be the maker of the world's best-selling drug. Too bad investors always want to know what's next.
AbbVie Inc. announced third-quarter earnings Friday that beat analysts' profit expectations and, on top of that, increased its 2018 guidance and boosted its dividend. As always, the gains were propelled by its super-blockbuster Humira, which generated $5.12 billion in sales in the quarter. But the good times, or at least the best of them, are coming to a close.
Humira, which treats rheumatoid arthritis and other ailments, is facing its first European competition from biosimilars — the complex equivalent of a generic for biologic medicines made with living cells. AbbVie gave the first detailed view of how that's going on its earnings call, and disclosed that Humira discounts are higher than it expected. AbbVie said drug discounts ranged from as low as 10 percent to as high as 80 percent.
The company forecast "double-digit EPS growth" in 2019. But with Humira's mortality starting to feel real, there's a chance that investors won't especially like the digits they get.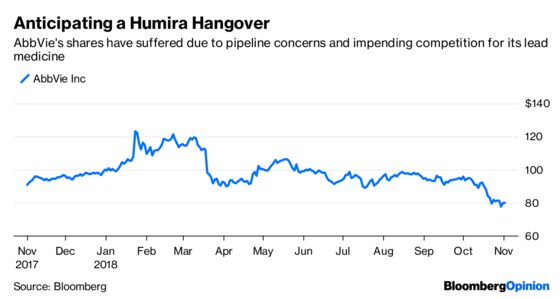 Humira isn't going to be sold at discounts as high as 80 percent everywhere, just in Nordic countries with particularly aggressive pricing policies, according to AbbVie. But prices are broadly lower than AbbVie expected and are likely to keep falling: The company conceded Friday that international sales are likely to erode more quickly than it initially planned. That's not the news anyone wants to hear within a few short weeks of initial biosimilar launches. 
In the longer term, this rough start raises the possibility that more important sales in the U.S. will also fall more rapidly than expected when biosimilar competition commences, likely in 2023. The market for biosimilars isn't as robust in the U.S. right now, but five years is a lot of time for competitors, regulators, physicians and insurers to get ready.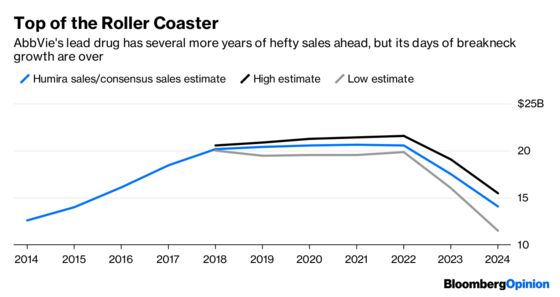 However you look at it, the news out of Europe only intensifies fears about slowing growth and AbbVie's ability to fill a large revenue hole. The company does have other thriving drugs in its stable, most notably the blood-cancer treatments Imbruvica and Venclexta. Humira's inevitable slowdown will put serious pressure on those medicines to support AbbVie's growth in 2019 and beyond, especially as the company spends to support other new drug launches. Analysts currently expect about 12 percent earnings growth next year, a figure that just meets AbbVie's rather vague guidance and which is a rather steep step down from this year's growth.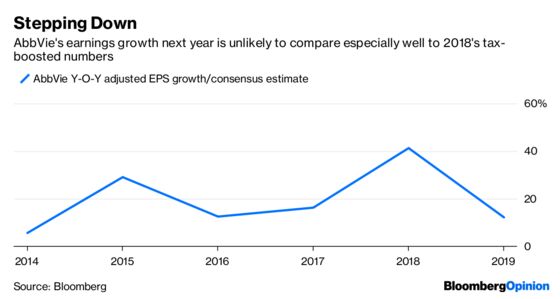 While AbbVie has a robust pipeline of newer drugs, its evaluation of their growth prospects is arguably overoptimistic. Even with perfect execution and lots of luck, the firm will likely need to do some M&A. That might help bolster sentiment a bit, or at least add extra assets. But the firm's recent record is a little shaky. AbbVie's $5.8 billion acquisition of Stemcentryx in 2016 looks like a bust after disappointing trial results for a lung-cancer medicine.
The fact that Humira's U.S. sales are safe for several more years gives the company a pretty sizable window for trial and error. But Friday's earnings call was a reminder that it gets smaller every day. 
This column does not necessarily reflect the opinion of the editorial board or Bloomberg LP and its owners.
Max Nisen is a Bloomberg Opinion columnist covering biotech, pharma and health care. He previously wrote about management and corporate strategy for Quartz and Business Insider.