AB InBev's $100 Billion Hangover
(Bloomberg Opinion) -- Go sober for October, drinkers are told at this time of year. It's a message of restraint Anheuser-Busch InBev SA/NV, the world's biggest brewer, should heed when it comes to its dividend.
The company's $100 billion takeover of rival SABMiller Plc two years ago lifted net debt to $108 billion. That might decline slightly this year, according to Trevor Stirling, an analyst at Sanford C. Bernstein Ltd., but it would still be almost five times Ebitda. That's more than the three times multiple at which investors tend to get nervous, and far above the company's own target to keep net debt at about twice Ebitda.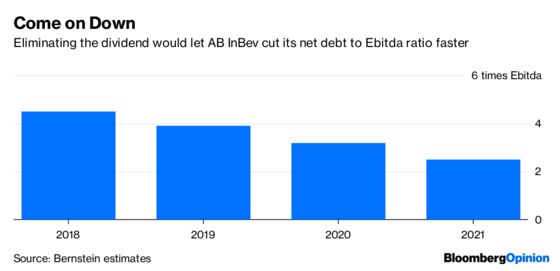 Moody's Investors Service has already put its A3 rating for AB InBev on review for downgrade. If the company is to deleverage faster, earnings have to increase, assets need to be sold, or the dividend reduced. The latter looks like the most attractive course.
As Duncan Fox of Bloomberg Intelligence notes, the company is being buffeted by volatile currencies and tough economic conditions in Latin America, where it generates 40 percent of sales. That threatens cash flow, and makes it far harder for the brewer to grow its way out of difficulty.
In the U.S., which accounts for 28 percent of revenue, younger drinkers are turning to local, craft offerings. That might make it more difficult to pare capital expenditures or the marketing budget, which analysts at Jefferies International Ltd. put at $8 billion annually.
Selling assets is possibility, but would mean forgoing the earnings of any businesses sold. It would be an unpalatable proposition for a management team that has built the company through aggressive acquisitions.
The full-year dividend costs about $8 billion, which is just about covered by this year's expected earnings. There is room to trim the payout: The shares yield almost 5 percent, more than the 2 percent to 3 percent of most of their beverage and consumer peer group.
Cutting the dividend, or skipping it altogether, would make a decent dent in leverage. In fact, Bernstein's Stirling estimates that if it was eliminated, net debt would fall to 2.5 times Ebitda by the end of 2021.
No company wants to take an ax to its dividend, and AB InBev has to weigh some special considerations. As part of the deal that created the company, its two biggest shareholders — tobacco giant Altria Group Inc. and Colombia's Santo Domingo family — can't reduce their holdings until October 2021, so the dividend is an important source of cash for them.
Secondly, investors could interpret a cut negatively, putting more pressure on a stock that has already fallen about 30 percent over the past year.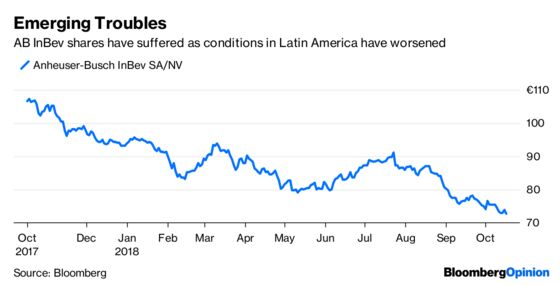 But these risks are manageable. The company's own list of priorities puts returning cash to shareholders in fourth place, after organic growth, deleveraging and selective M&A.
The market is braced for a cut. Passing on that opportunity now only to reverse course later would be much more damaging to the management's credibility. Either way, AB InBev will have to tread as anyone coming home after too many pints does: with extreme care.
This column does not necessarily reflect the opinion of the editorial board or Bloomberg LP and its owners.
Andrea Felsted is a Bloomberg Opinion columnist covering the consumer and retail industries. She previously worked at the Financial Times.