Are China's Billionaire Tech Founders Slipping Out of Touch?
(Bloomberg Opinion) -- Some of China's tech billionaires apparently still haven't received the #MeToo memo. 
Michael Yu, head of New Oriental Education & Technology Group Inc., raised a social-media storm by appearing to disparage all Chinese women, two months after JD.com Inc. CEO Richard Liu was arrested in Minneapolis over rape allegations, which he denies.
"Chinese women's depravity has led to the fall of the country," Yu said at an education summit in Shanghai on Sunday. If women favored men who read poetry, the men (and society) would benefit, he suggested. Since women pick men based on their earning power, men simply chase money, Yu said.
Cue outrage. What these recent episodes really show is how out of touch China's first-generation entrepreneurs have become. Yu and Liu are trailblazers: New Oriental was listed on Nasdaq in 2006 and inspired a 2013 blockbuster movie in China. JD's $2 billion IPO in 2014 was the largest Chinese internet offering in the U.S. at the time. 
The two are household names in China. More than 20 years ago, when I was preparing to go to college in the U.S., I studied for my Test of English as a Foreign Language at New Oriental in Shanghai. When I returned eight years ago, I joined the millions of Chinese middle-class shoppers who favor JD's e-commerce platform for quality (and genuine) products.
But China has changed. Both companies now seem to struggle to adapt to the shifting tastes of Chinese consumers, and their business models feel old and tired.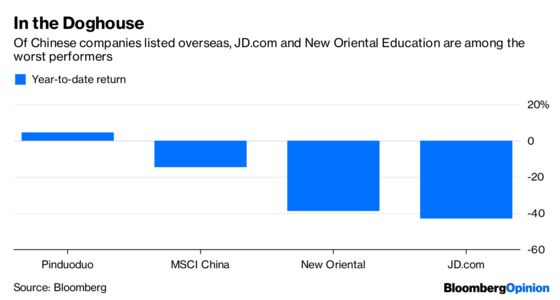 Consider the rise of Pinduoduo Inc. alongside the fall of JD. Founded just three years ago, Pinduoduo has prospered from a model that rewards shoppers who bring friends with group discounts. The platform already boasts more active users than JD, and processes transactions just 40 percent shy of the bigger company's gross merchandise volume. Lacking patience, hedge funds have already taken sides: They bought into Pinduoduo while selling JD in the September quarter, according to the latest 13F filings.
What JD has failed to capture, and Pinduoduo has tapped into, is the rise of the blue-collar worker. As China's upper middle classes — JD's core customers — are pinched by the economic slowdown and the soaring cost of living in mega-cities, they can no longer be relied on to shell out 14,000 yuan ($2,000) for a Gucci bag every so often. I for one no longer shop at JD. 
The deterioration in JD's earnings has been precipitous: Active users fell for the first time in the third quarter, and management now sees the pace of revenue growth almost halving in the final quarter.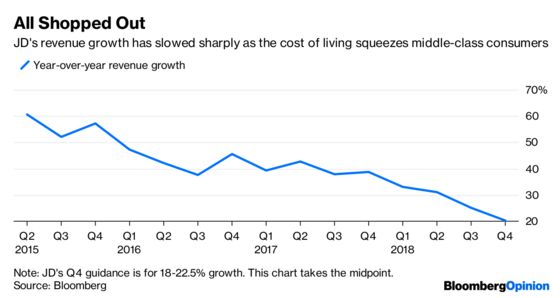 New Oriental, too, has some soul-searching to do. As China rapidly transforms into a digital economy, the after-school educator is boosting online investments at the expense of operating margin.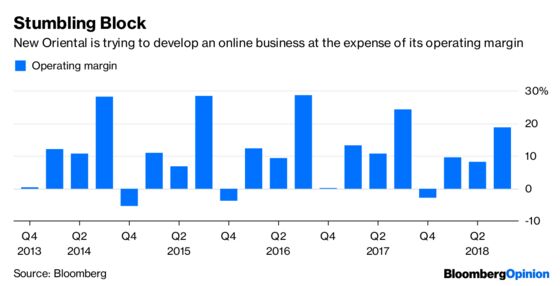 New Oriental is also trying to woo Hong Kong investors by listing its online subsidiary, Koolearn Technology Holding Ltd., in the city. Yu may have done the process no favors by alienating half of his potential base. 
Investors worry about key-person risk — a founder who is so core to the operation of a company that his or her absence could be a disaster. The underperformance of JD and New Oriental indicates that the key men there need to work on their public image as much as their business model.
This column does not necessarily reflect the opinion of the editorial board or Bloomberg LP and its owners.
Shuli Ren is a Bloomberg Opinion columnist covering Asian markets. She previously wrote on markets for Barron's, following a career as an investment banker, and is a CFA charterholder.