Hot-Rod Stock Goes as Cold as Yesterday's Potatoes
(Bloomberg Opinion) -- "We should be like a couple of hot tomatoes, but you're as cold as yesterday's mashed potatoes," Ginger Rogers tells her onscreen love interest Fred Astaire in the 1936 musical Swing Time.
French auto supplier Valeo SA would no doubt recognize Astaire's condition, after yet another profit warning late on Thursday. Once a hot favorite of investors because of its fashionable technology for electric and automated vehicles, Valeo's recent inability to turn high spending into rip-roaring growth has cooled the ardor of its most bullish supporters.
"Please Valeo, please, please give me a break and stop disappointing," Bernstein's Max Warburton told clients. "We throw in the towel," a spurned Chris McNally at Evercore ISI chimed in.
The efforts of CEO Jacques Aschenbroich to bring about a reconciliation during a Thursday analyst call were fruitless. The shares slumped about 20 percent when trading started on Friday. Such frustration is natural. While the big carmakers are weighed down by the burden of investing heavily in electric and autonomous vehicles to head off Tesla Inc. and its ilk, this should be boom time for suppliers like Valeo.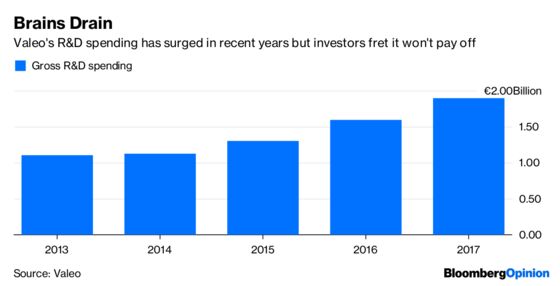 Indeed, until recently its sales tended to significantly outpace the automotive market, helping to justify its lavish spending. Gross R&D costs totaled almost 12 percent of equipment sales last year, while overall investment jumped 40 percent year-on-year. Lately, its sales performance has been far more pedestrian. Like-for-like equipment sales declined 1 percent during the third quarter.
As with its rivals, Valeo has been clobbered by rising raw materials costs, slumping Chinese demand, and production delays related to Europe's new emissions testing regime. It's had bad luck, too. Ford Motor Co. is a key customer, and a brief glance at the Detroit giant's share price over the past year will tell you that's not such a good thing.
The emissions-related production slowdown should prove temporary, while almost 19 billion euros ($21.6 billion) of orders booked in the first six months of this yearsuggest carmakers haven't suddenly gone cold on Valeo's tech. 
Unfortunately, management hasn't been able to shed much light on how sales will develop next year, so investors are disinclined to place much faith in the company's long-term prospects. Not long ago, the shares traded hands for as much as 14 times estimated earnings. Now investors are only willing to pay half that multiple. 
Those who bought shares when Aschenbroich took the reins in 2009, and subsequently re-invested the dividends, enjoyed a stunning 2,000 percent return by the time the stock peaked in 2017, according to Bloomberg data. But since that zenith the shares have lost almost two-thirds of their value. The company's name — Latin for "I am well" or "I am strong" — feels like a relic from when Asterix the Gaul was still thrashing the Romans. 
This column does not necessarily reflect the opinion of the editorial board or Bloomberg LP and its owners.
Chris Bryant is a Bloomberg Opinion columnist covering industrial companies. He previously worked for the Financial Times.