A Fund Adds $57 Billion A Year. It's Not Enough
(Bloomberg Opinion) -- Amundi SA, already Europe's biggest fund manager, is on course to meet its self-imposed target of swelling assets under management by a net 50 billion euros ($57 billion) per year. Its cost-to-income ratio is best-in-class. And yet its shares dropped 6 percent on Friday to their lowest level since March 2017.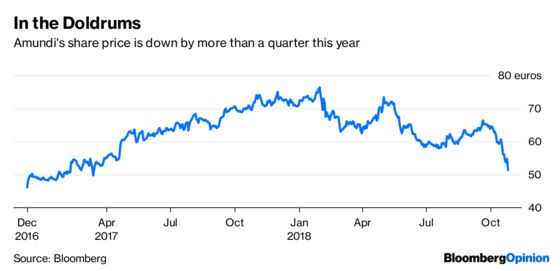 While asset growth decelerated in the third quarter to the slowest pace since its 2015 IPO, Amundi added a net 48.5 billion euros to its assets in the first nine months of this year, the Paris-based firm said on Friday. That's pretty impressive given how hard other fund managers are finding life.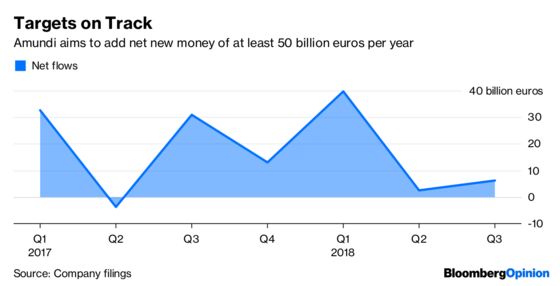 Amundi Chief Executive Officer Yves Perrier is running a tight ship, delivering the cost cuts he promised after buying Milan-based Pioneer Investments for 3.5 billion euros last year. Its cost-to-income ratio dropped to 51.2 percent at the end of September from 53.1 percent at the end of last year. For comparison, Standard Life Aberdeen Plc's ratio is 69 percent and its medium-term goal is 60 percent.
But the entire fund management industry is in a funk. Misery loves company, and Amundi is far from the worst performer in its peer group. Standard Life Aberdeen and Jupiter Fund Management Plc have each lost almost half of their value this year. DWS Group GmbH is down by more than 25 percent since it was spun out of Deutsche Bank AG earlier this year.
While size alone can't immunize Amundi from the woes afflicting its industry, it can ease the pain. As my Bloomberg News colleague Fabio Benedetti Valentini points out, Amundi benefited from a global distribution network that attracted net inflows across the globe, boosting its total assets to 1.475 trillion euros by the end of the third quarter.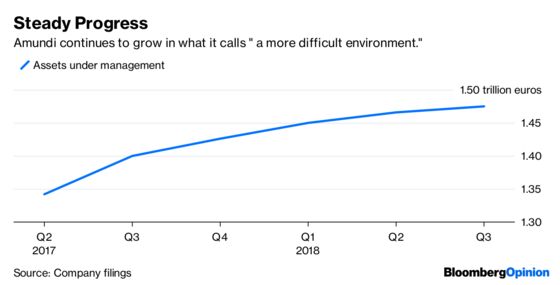 Will life improve for asset managers? At current depressed levels, investors are pricing the entire industry as if the global economy is heading into recession, the head of one of Europe's biggest asset managers told me this week. While the days of synchronized growth are over, few economists are predicting a worldwide contraction.
This column does not necessarily reflect the opinion of the editorial board or Bloomberg LP and its owners.
Mark Gilbert is a Bloomberg Opinion columnist covering asset management. He previously was the London bureau chief for Bloomberg News. He is also the author of "Complicit: How Greed and Collusion Made the Credit Crisis Unstoppable."