A Ferrari Really Is the Petrol-Head's Birkin Bag
(Bloomberg Opinion) -- Ferrari's new chief executive Louis Camilleri had two unenviable tasks on Tuesday: fill the shoes of his deceased predecessor Sergio Marchionne, and justify a market valuation that puts the carmaker on a par with the luxury goods giants of Paris and Geneva. 
He didn't do too badly under the circumstances. A cut to profit guidance was met by a sharp drop in the share price, but it recovered quickly. Indeed, the lowering of expectations was pretty minor. Ferrari expects yearly Ebitda of 1.8-2 billion euros ($2.1-$2.3 billion) by 2022, down from an "aspirational" target of 2 billion euros. That would still be almost double where it was in 2017, and implies a whopping 38 percent margin. An average carmaker has adjusted Ebitda margins of about 15 percent.
Indeed, it's a handy reminder of what other performance carmakers will need to deliver if they want a piece of Ferrari's stock market action — notably Britain's Aston Martin, which plans an IPO.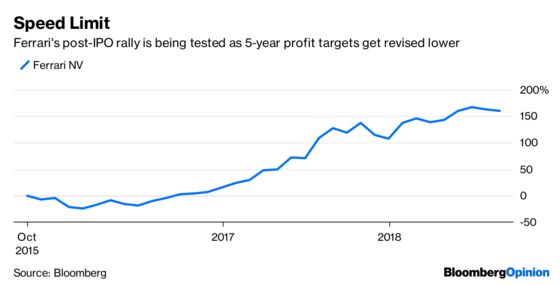 It takes more than exhaust fumes to justify a share price worth 33 times estimated earnings, even if that does look a little too high-octane. Ferrari is exceptionally profitable because of its carefully guarded exclusivity, reassuringly expensive price tag and Formula One image. Its return on equity is about 81 percent, according to Bloomberg data, almost three times higher than luxury goods companies. A Ferrari really is the petrol-head's Birkin bag. On Tuesday it produced a graph charting the sound of its engines.
Nevertheless, it's still tied to the preoccupations of any automaker. Cars aren't just gas-guzzlers, they're cash-guzzlers too. Capital expenditure over the next five years will be about 3.6 billion euros cumulatively, as Ferrari rolls out hybrid vehicles and expands its range to include bigger, more everyday SUVs. The trick will be doing this while maintaining the reverence for the brand. 
The combination of research and development costs, currency fluctuations and general expenses will offset the positive effects of pricing and new models almost entirely over the next five years — when looking at adjusted Ebit. So shifting more units has to pick up the slack. Ferrari hopes to boost yearly sales volumes to more than 9,000 vehicles by 2022, from about 8,400 last year.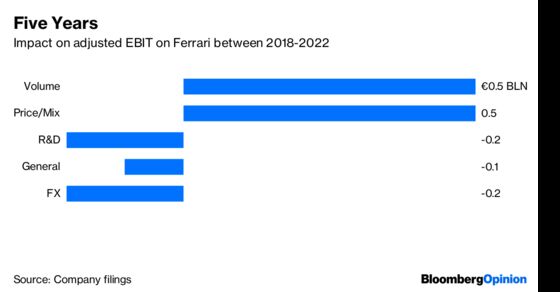 Camilleri is clearly conscious of the risk of overspending and damaging the brand through overexposure. A much-heralded SUV, the Purosangue, won't be available until 2022.
He's right to drive more slowly. Ferrari has enviable profit and staying power, and an avid fan base among owners and investors, so why rush? Ian Fletcher, an IHS Markit analyst, reckons it can ride out competition from other rivals thanks to its customer base. The biggest challenge will be the world's shift away from hydrocarbons, hence the hybrid initiatives. But here again, exclusivity might help. In a world full of Tesla lookalikes, the petrol-heads will still pay a premium for Ferrari's growl. 
This column does not necessarily reflect the opinion of the editorial board or Bloomberg LP and its owners.
Lionel Laurent is a Bloomberg Opinion columnist covering finance and markets. He previously worked at Reuters and Forbes.