A Giant Chinese Telecom Merger, Made in America?
(Bloomberg Opinion) -- Look to the U.S. to understand why China is considering merging two of its three telecom operators.
China's top leaders are reviewing a proposal to combine China United Network Communications Group Co. and China Telecommunications Corp., Bloomberg News reported Tuesday. Shares of the state-controlled companies' Hong Kong-listed units climbed more than 4 percent.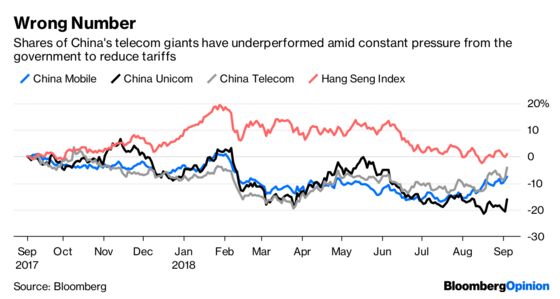 Speculation of a merger has been around for years, goosing the stocks as recently as February 2015. The purported logic then was leveling the playing field between market leader China Mobile Ltd. and the two smaller players.
This time around, there's good reason to believe a consolidation may happen.
The world's two biggest economies are engaged in a battle for technological supremacy in 5G, the next-generation mobile services that will enable the development of smart cities in which everything from power plants to schools are connected to real-time data collection networks.
The U.S. is one step ahead. In January, AT&T Inc. announced that it would introduce mobile 5G services in a dozen cities including Dallas, Atlanta and Waco this year. In its pitch to the U.S. government to allow its merger with Sprint Corp., T-Mobile US Inc. promised $40 billion of investment in a 5G network that will reach 90 percent of the U.S. population by 2024. China is expected to announce its 5G spectrum allocation plan only this month and a trial commercial application is unlikely to begin until 2019, China International Capital Corp. estimates.
The cost of rolling out a nationwide 5G network is vast, and China's two smaller operators have been dragging their heels. The research arm of the Ministry of Industry and Information Technology estimated total investment could reach 2.8 trillion yuan ($411 billion) between 2020 and 2030. That's more than the combined market value of the three mobile companies' listed units.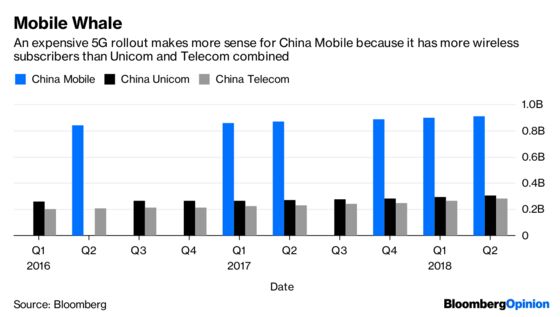 Unicom and China Telecom have far smaller user bases and sales than China Mobile. Combining the also-rans would reduce their capital expenditure needs and thus their resistance to building.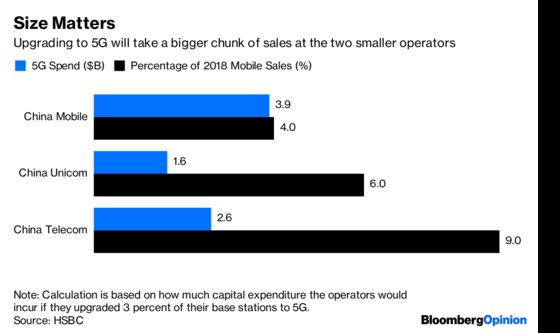 President Donald Trump blocked Broadcom Ltd.'s acquisition of Qualcomm Inc. this year on concern that the merger would indirectly benefit China in the race to develop 5G standards and equipment.
The escalating trade war and a realization that the U.S. government wants to impede China's technology ambitions have added pressure on Beijing to hasten the 5G process. First-mover advantage may already have been lost. 
Consumers may be the losers from this geopolitical imperative. In the world of mobile services, three is the optimal number, allowing enough competition to protect consumers while avoiding the saturation that saps profits.
It's worth noting that, as China considers moving from three operators to a duopoly, the U.S. is still chewing over whether to go from four to three.
If this merger does go ahead, might an unlikely winner be T-Mobile and Sprint?
This column does not necessarily reflect the opinion of the editorial board or Bloomberg LP and its owners.
Shuli Ren is a Bloomberg Opinion columnist covering Asian markets. She previously wrote on markets for Barron's, following a career as an investment banker, and is a CFA charterholder.
Nisha Gopalan is a Bloomberg Opinion columnist covering deals and banking. She previously worked for the Wall Street Journal and Dow Jones as an editor and a reporter.