The Great British Baking Scandal
(Bloomberg Opinion) -- London's less regulated Alternative Investment Market (AIM) has had more than its fair share of corporate scandals over the years. But rarely one as surprising as what's befallen Patisserie Holdings Plc.
Known for its Patisserie Valerie cake shops, the British company part-owned by entrepreneur Luke Johnson revealed on Wednesday that it had suspended its chief financial officer. This was after uncovering "significant, and potentially fraudulent, accounting irregularities." Its financial year ended on Sept. 30. 
Patisserie Holdings may therefore have exaggerated its cash position. It's probable the company's 446 million pound ($587 million) market capitalization — the stock exchange ticker is CAKE — will go very soggy when trading resumes.
Johnson, who is also Patisserie Holdings' chairman, has a decent track record in buying and selling companies and he comments frequently on business matters in British newspapers (including on how to spot corporate frauds.) His 37 percent stake in the company, plus the 4 percent stake held by chief executive Paul May, will at least assure investors that management has skin in the game.
The really odd thing about this case, though, is that there doesn't seem to be anything out of the ordinary about the structure and accounting of Patisserie Holdings. This is no Parmalat (the Italian dairy giant that collapsed amid an accounting scandal). In fact, the business model's really quite simple. The company owns a handful of cake, bakery and deli chains. It has a website, plus a few partnerships with British retailers such as Debenhams and Sainsbury's.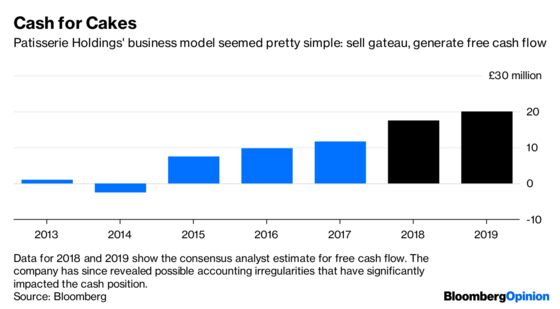 While the accounts must obviously now be treated with caution, they're refreshingly free of funky stuff such as questionable earnings adjustments. Sales have been growing at quite a clip — the company aims to open about 20 stores a year. But that growth has been producing decent free cash flow. Or at least we thought it had.
The balance sheet appeared to be in good shape too. The company claimed to have 28.8 million pounds of net cash at the end of March. Its roughly 65 million pounds of store lease obligations were pretty much the extent of its liabilities.
There was an argument that the shares were too richly valued — the stock was priced at 23 times estimated earnings — but not ridiculously so. Hence, bearish investors weren't queuing up to short the stock.
As such, this is all very embarrassing for Johnson, who might think twice about lecturing others on how to run a business in future. The quality of Britain's auditing is being closely scrutinized after Carillion Plc's collapse, so there will be questions too for Patisserie Holdings' auditor, Grant Thornton, to answer.
If wonky accounting can go unnoticed at a plain-vanilla business like Patisserie Holdings, investors really have nowhere to feel safe.
This column does not necessarily reflect the opinion of the editorial board or Bloomberg LP and its owners.
Chris Bryant is a Bloomberg Opinion columnist covering industrial companies. He previously worked for the Financial Times.