A $100 Million Haircut for the Buyout Crowd
(Bloomberg Opinion) -- It's rare to see a deal suffering a price cut after it's been signed — even rarer when there's a big equity fundraising on the side.
This week, private equity firm Advent International Plc agreed a maximum 17 percent snip to the price of Mondo Minerals BV, the Dutch talc producer it agreed to sell to British chemicals group Elementis Plc back in June. The climbdown vindicates investors for pushing back on an overpriced deal, shows private equity can sometimes be pushed around, and casts doubt over whether the sellers' market in M&A is as tight as bankers say.
Elementis shares plunged 15 percent in the days following its $600 million deal for Mondo back in June. The main problem was the high valuation, although an accompanying rights offer didn't help. Credit Suisse analysts said $500 million was a more suitable price for the asset. Elementis and Advent have renegotiated a face-saving compromise of $500 million plus a possible 46 million euros ($53 million) on top, contingent on three-year performance targets.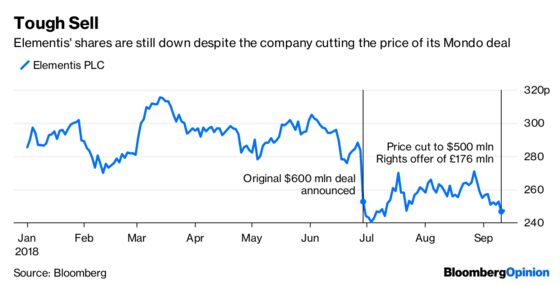 Kudos to the buyer. Facing an embarrassing rejection at the shareholder vote on the deal, it has done an impressive job at turning the situation around between signing and completion. Deals usually have to die before they can be reworked at a lower price.
The original knockout offer looks to have been an attempt to avoid an auction. Those fears were clearly misplaced. Were other keen buyers lurking, Advent would have surely taken a break fee from Elementis and re-run the sale process. It's easier to believe there was only one other serious suitor — or none. It would be hard to play off a single remaining buyer against an Elementis reined in by its shareholders. A delay for the buyout firm in exiting a long-standing investment would further reduce its return unless it delivered a punchy price.
Elementis isn't fully redeemed, though. The stock is 13 percent lower than its pre-deal level, against a 4 percent drop in the FTSE All-Share. Some shareholders clearly don't like the deal even now.
The art of selling an asset is to make a buyer believe that it's one of countless interested parties. Credit goes above all to the Elementis shareholders for calling Advent's bluff.
This column does not necessarily reflect the opinion of the editorial board or Bloomberg LP and its owners.
Chris Hughes is a Bloomberg Opinion columnist covering deals. He previously worked for Reuters Breakingviews, as well as the Financial Times and the Independent newspaper.