Uber and Deliveroo Pick a Food Fight With Just Eat
(Bloomberg Opinion) -- Just Eat Plc's advertising exhorts potential customers to gorge on all kinds of delicious takeaways, from Balti to burgers. But with Uber Techologies Inc. eyeing rival Deliveroo, Just Eat might end up as the next meal.
Shares in U.K.-based food delivery service Just Eat fell 5.7 percent Friday after Bloomberg News reported the early-stage talks.
Investors are right to be cautious.
Uber and Amazon.com Inc. have been forging into this market, with varying degrees of success. McDonald's Corp. uses Uber Eats as its U.K. partner, showing that it has already made serious inroads.
Just Eat may now face an enlarged competitor that combines Uber's vast army of drivers with Deliveroo's proven capability in Europe, as well as its credibility with upmarket food establishments.
Deliveroo was valued at more than $2 billion at its last fund raising. What's more, Uber, which is backed by Softbank Group Corp., has deep enough pockets to keep investing after a deal. Still, Just Eat, which has an enterprise value of $6 billion, has a few ways to defend itself.
First of all, it is already well-established, with strong brand recognition thanks in part to its two years of sponsoring the X-Factor TV show. The company has about a third of the British market, according to Ian Whittaker, analyst at Liberum.
Secondly, Just Eat still generates more than half of its sales, and 95 percent of its underlying profits, from the U.K. Here, almost two thirds of customers are outside of the top 11 cities, according to Liberum. Uber Eats and Deliveroo tend to be more concentrated in large, urban areas. Replicating that geographic reach might be difficult, even for such a large entrant. 
Finally, in its home market, Just Eat tends to work with cheaper, local restaurants. As I've argued, the value sector has proved a rare bright spot amid the U.K. consumer gloom, with the likes of B&M European Value Retail SA, JD Wetherspoon Plc and Greggs Plc all performing relatively well.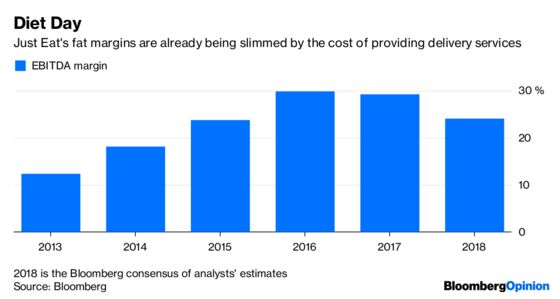 Still, it's unlikely that those qualities will be enough to fully see off a muscular new rival, which may able to offer local eateries a more integrated service. With Uber Eats they would no longer have to bear the cost of delivery, as they do with Just Eat, whose core business connects diners and restaurants but skips the margin-sapping transport service.
Just Eat is already having to move away from its roots as a technology platform by offering physical delivery. As my colleague Alex Webb has argued, new partners, such as KFC, Burger King and Subway, demand that Just Eat distribute their meals, too. These food giants don't want to hike their own expenses with armies of couriers.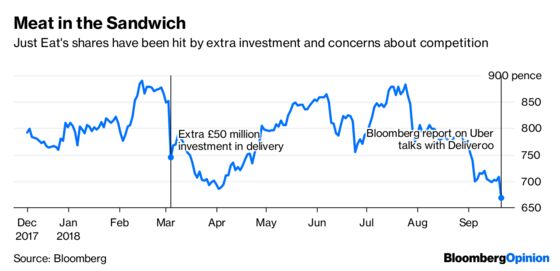 Theextra 50 million pounds ($66 million) Chief Executive Officer Peter Plumb will spend this year on developing Just Eat's distribution network is already taking its toll on the shares, which are down about 14 percent since the start of this year.
The strategy shift is a threat to Just Eat's fat margins. In 2017 Ebitda was 29 percent of revenue, but that may fall to 24 percent this year, according to the Bloomberg consensus. That's still way above the 5 percent estimated for online supermarket Ocado Group Plc, which must bring groceries to its customers' doorsteps. 
That leaves plenty of profit for a big and hungry rival to nibble away at.
This column does not necessarily reflect the opinion of the editorial board or Bloomberg LP and its owners.
Andrea Felsted is a Bloomberg Opinion columnist covering the consumer and retail industries. She previously worked at the Financial Times.