Debenhams Needs to Find Salvation at Christmas
(Bloomberg Opinion) -- Debenhams Plc is known for being constantly on sale. But if its fortunes don't improve in the next few months, it may well have to attempt a controversial property restructuring. This might set billionaire shareholder Mike Ashley up for another high street bargain.
The Sunday Telegraph reported Sept. 8 that Debenhams, which warned on profit three times this year, was considering a CVA, a mechanism retailers have been using lately to obtain creditor agreement to close some stores and cut rent on others.
Chairman Ian Cheshire told the BBC that the speculation was "simply not true." A CVA would be an embarrassment for him – when he was chief executive of Kingfisher Plc, he criticized the use of the insolvency process.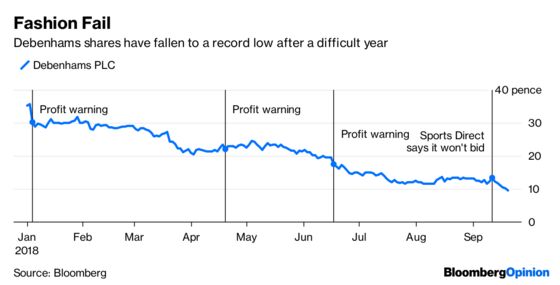 Right now, the company is not yet at the point where it needs to resort to the controversial property restructuring. Lenders have agreed to increase its headroom under a key banking covenant. That means it won't have any trouble stocking up for the holiday. It also has some options for bolstering its balance sheet. 
But it has an onerous real estate burden – the average length of its store leases is 18 years, compared with 7 years at Next. And its 4.6 billion pounds ($6 billion) in operating lease commitments is a big number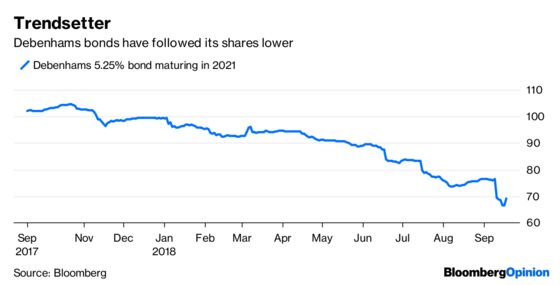 But leave this to one side – the real worry comes from its lease-adjusted net debt to Ebitdar multiple. To calculate this, analysts typically multiply total rent payments (this was 221 million pounds in 2017; assume 2018 is little changed) by eight, then add in net debt (which the company estimates at 320 million pounds in the year to August).
This puts Debenhams' lease-adjusted obligations at 5.5 times forecast 2018 Ebitda of 157 million, before rental payments. That's a long way above the 3 times  at which investors start to get nervous.
Debenhams badly needs to trim its store portfolio, and it has a shot at doing this without a CVA. It has already said it will close 10 stores, but it has scope to push this further, since leases on 25 of its 165 locations will expire over the next five years. What's more, there is potential to shrink another 30. It's not clear that this will be enough, but it's worth a try.
The company is also pulling other levers to make a dent in its borrowings. It halved its interim dividend, but it should also cut or abandon the final pay-out, which would cost it about 30 million pounds if it remained around 2017's level.
Even assuming 2018 capital expenditure its held at 2017's 125 million pounds, Debenhams still wouldn't generate enough cash from its operations to cover the final dividend, according to the  model developed by Louise Parker of Bloomberg Intelligence.  At least the company's plan to drastically reduce capital expenditure in fiscal 2019, to 75-90 million pounds,  looks sensible.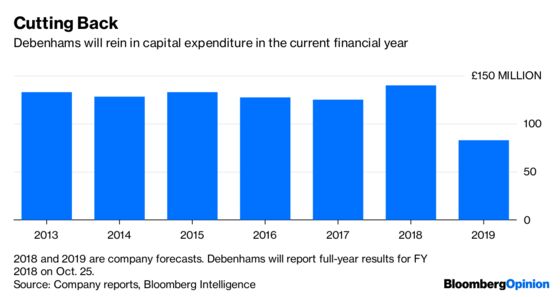 Debenhams is also selling its Danish department store Magasin du Nord, which the company has indicated may fetch up to 200 million pounds. That's a decent price for a decent business, but Debenhams doesn't have a strong negotiating hand, given that any buyers will be aware that its current issues make it something of a forced seller.
If it doesn't get as much as it hoped for the Danish arm, or it has a poor Christmas – which is a possibility, given that consumer confidence is vulnerable to worries about Brexit – then a CVA becomes much more likely.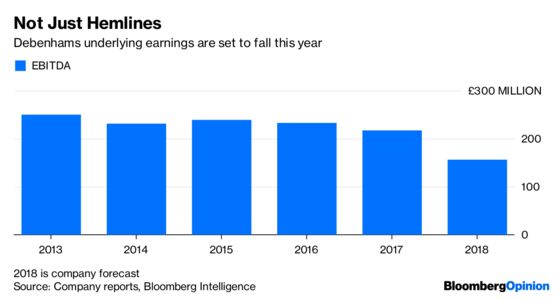 The company can't count on Mike Ashley riding to its rescue right now, either. 
He has a 28 percent stake through his Sports Direct International Plc. The company said last week that it did not intend to bid for the department store, so it can't make an offer for another six months unless the target agrees to a bid, or another purchaser comes in. 
So, if Debenhams has a turkey rather than a cracker of a Christmas, and analysts see little scope for revenue to improve in fiscal 2019, that timing might just work in Ashley's favor. Given that he's just bought House of Fraser, 2019 could well see him with two high street toys to play with.
This column does not necessarily reflect the opinion of the editorial board or Bloomberg LP and its owners.
Andrea Felsted is a Bloomberg Opinion columnist covering the consumer and retail industries. She previously worked at the Financial Times.