Tesco Finally Wakes Up and Smells the Discounting
(Bloomberg Opinion) -- Better late than never.
Tesco Plc has finally revealed Jack's, its new store format to take on the might of the German discounters, Aldi and Lidl.
Tesco should have made this move when the no-frills supermarkets started winning significant market share a few years ago. And cut-price chain B&M European Value Retail SA is expanding aggressively, and increasing its food range, too. But at least now Tesco is taking serious steps to defend itself.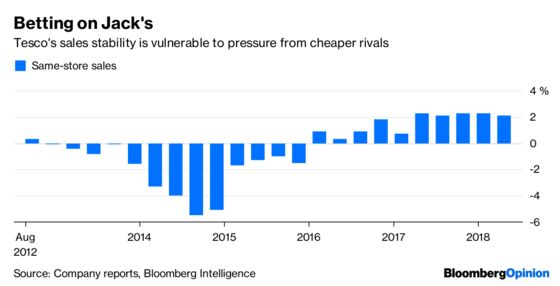 Britain's biggest retailer has dabbled with discount in recent years. A decade ago, former Chief Executive Officer Terry Leahy introduced a suite of cheaper brands in an effort to transform into Britain's Biggest Discounter. But these new lines didn't chime with customers, and the initiative soon fizzled out.
This time, it is launching a full chain, and taking a different approach to the product selection. Jack's, a new private label, will lead the charge, and be augmented by some well-known household names. That's much more in line with the discounters' strategy. But Tesco will also attempt to differentiate itself by ensuring that eight out of 10 Jack's products will be British.
This should be feasible — all the more so now since its ownership of Booker can bolster economies of scale and cost savings.
And a vulnerability has emerged in the German onslaught. Aldi and Lidl have been progressively moving upmarket to capture the cash-strapped middle classes. That can give the impression that their stores are more expensive, and disenfranchise some loyal shoppers.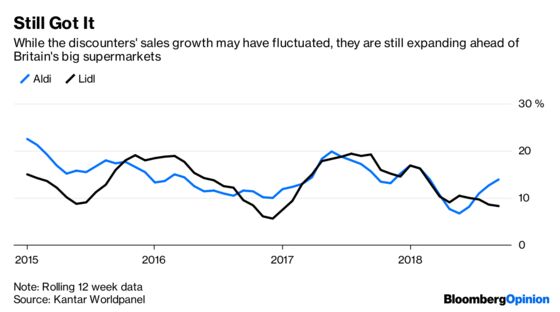 Tesco has the opportunity to appeal to just these consumers. But there are some serious risks.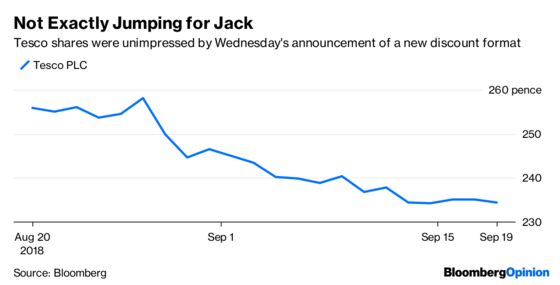 The first is whether Jack's will cannibalize existing Tesco-branded stores.
Large out-of-town supermarkets can afford to charge customers slightly more in return for a bigger product range, a wide selection of branded goods, and the ability to buy everything in a single visit, not to mention plenty of parking space. But they stumble when prices drift up beyond what consumers are prepared to accept.
Tesco faces this problem, and CEO Dave Lewis is making some progress cutting prices in mainstream stores. He can't lose that momentum. Otherwise, shoppers may well flee to Jack's, as far as they can.
The second is whether Tesco can actually make the concept work.
The discounter model, with a limited product range and very tight control of costs, has been honed over many years. Efficiencies extend right through to distribution centers and the head office. 
Tesco says Jack's will also be backed by a low-cost operating model. It will have just 2,600 product lines, compared with as many as 50,000 at a hypermarket. The stores look to have adopted many of the practices of the discounters, such as shelf-ready packaging (where the shipping cases double as display boxes), which saves on labor.
But matching the price-cutting prowess of Aldi and Lidl is a tall order. And Tesco faces an extra hurdle — if it converts some tired town-center stores into Jack's, these will be more expensive to run, as they are leasehold properties that tend to have higher rents.
Tesco is also still striving to increase its group operating margin, from 2.9 percent in the year to February 2018 to between 3.5 percent to 4 percent by February 2020. So it's hard to see that target squaring with a move that potentially lowers prices.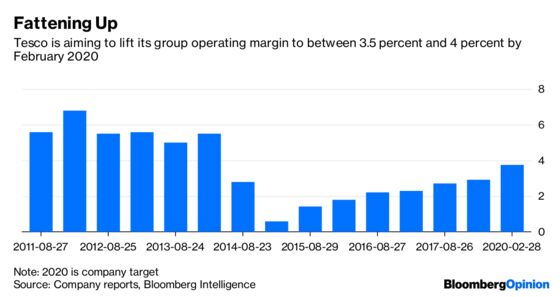 Still, with Aldi and Lidl planning hundreds of new U.K. stores, Tesco is right to innovate.
It missed a trick when it ran Fresh & Easy, a unique mix of convenience store alongside fresh and prepared food, in the U.S. At that time, Waitrose was flying in the U.K. and its overlap with Fresh & Easy meant Tesco could have developed a British version to compete. It never did.
As tardy as it is, at least Tesco is finally waking up to the perils of the discounting revolution.
This column does not necessarily reflect the opinion of the editorial board or Bloomberg LP and its owners.
Andrea Felsted is a Bloomberg Opinion columnist covering the consumer and retail industries. She previously worked at the Financial Times.