Victor Li Gets His Timing Right for a U.K. IPO
(Bloomberg Opinion) -- When you're preparing to spend billions of dollars on acquisitions in one year, it makes sense to sell assets to raise cash, especially if existing businesses face a secular drop in returns.
Victor Li, who took over from his father (and Hong Kong's most famous billionaire) Li Ka-shing in May, is looking into listing some of the U.K. assets held by CK Infrastructure Holdings Ltd., Bloomberg News reports. The listing, probably through a new vehicle, could include a power network purchased from Electricite de France SA eight years ago and Northumbrian Water Group Ltd.
Raising money would be handy for the whole Li empire, not just the unit spinning off assets. Acquisitions have taken a toll on debt levels at CK Infrastructure, which is 76 percent-owned by the flagship CK Hutchison Holdings Ltd.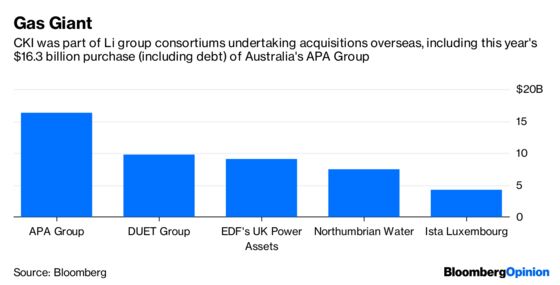 That's because since stepping into the top job, Victor Li has upped the pace of his father's dealmaking, buying largely monopoly assets with stable cash flows. The CK group offered to buy the half it doesn't own of an Italian mobile-phone venture; acquired UBS Group AG's London headquarters; and in its biggest deal, made a $9.8 billion bid for an Australian gas-pipeline operator, APA Group. Like so many CK Group purchases, the APA deal involves CKI. Australian government approval is pending.
No surprise, then, that Hong Kong-listed CKI's net debt to equity stood at 17.9 percent in the first half, not far from the five-year peak of more than 20 percent reached in late 2017.
While debt remains high, returns are likely to keep flagging for two reasons: A focus on developed markets like Europe and Australia, which are less risky than emerging markets but less rewarding; and rising interest rates. Federal Reserve increases will make utilities, with regulated incomes, less alluring investment propositions. CKI's long-term return on equity is hovering around 10 percent, well below the 15 percent average of the past couple of decades, according to Bloomberg Intelligence analyst Joseph Jacobelli.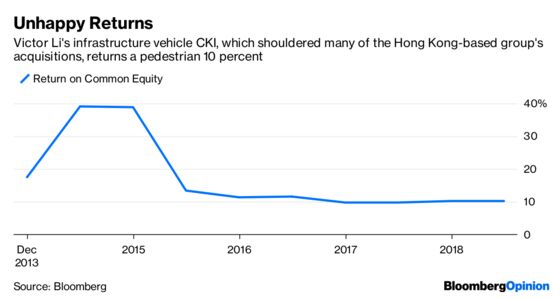 Indeed, once the acquisition of APA goes through, CKI may have little room left to keep buying utility and infrastructure assets, its modus operandi. Morningstar Research analyst Lorraine Tan reckons the company may have "room for just one more purchase."
For a company that needs to keep buying for growth, then, an IPO could be a boon. The timing, just before the upheaval of Brexit, looks sensible amid the other headwinds faced by the U.K. businesses. (The opposition Labour Party's proposal to nationalize water utilities must be especially worrying for Li, who already faces a regulatory reset in 2020.)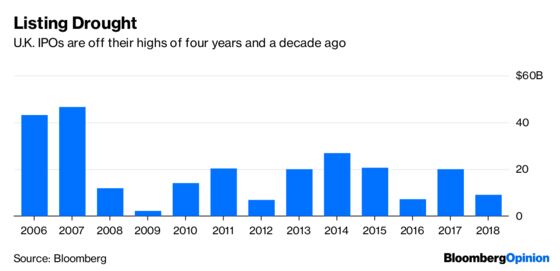 The Li family has a long record of spinoffs at the peak of growth. The last two big floats were of its port holdings, in Singapore in 2011, just before trade started to slump, and of the heavily regulated Hong Kong electricity assets in 2014.
Li's timing looks good from the CK group's perspective. To succeed, though, he'll need to get investors in the flagging London IPO market on board.
This column does not necessarily reflect the opinion of the editorial board or Bloomberg LP and its owners.
Nisha Gopalan is a Bloomberg Opinion columnist covering deals and banking. She previously worked for the Wall Street Journal and Dow Jones as an editor and a reporter.