The Death and Life of New York City Retail
The juxtaposition of an otherwise still seemingly healthy city economy and such visible signs of retail distress has generated many attempts at explanation. The two main lines of reasoning can, I think, be summed up as (1) affluence and greedy landlords are killing the city and/or (2) online shopping is killing retail. (To these I would add my suspicion that New York's uniquely friction-filled and inefficient real estate environment plays a big role, too.)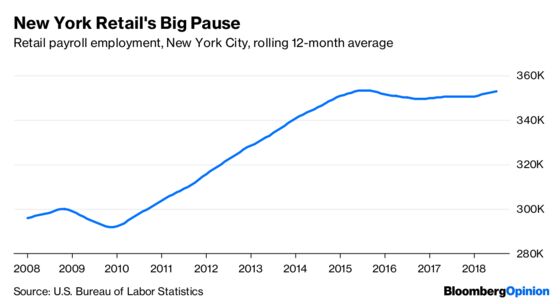 Clearly, city retail hit something of a wall in 2015, even as overall employment continued to rise. There was a dip in retail employment nationwide, too, but it came later and was much shallower and shorter-lived.
This retail employment dip in New York City was, it turns out, almost entirely a Manhattan phenomenon (the borough accounted for 46 percent of city retail employment in 2017):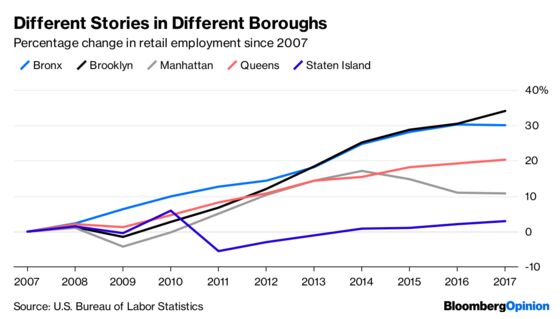 This data is from the Quarterly Census of Employment and Wages, which isn't as timely as the monthly establishment data but has the numbers by county, aka borough. It also counts the number of retail establishments, and Manhattan lags the other boroughs even more by that metric: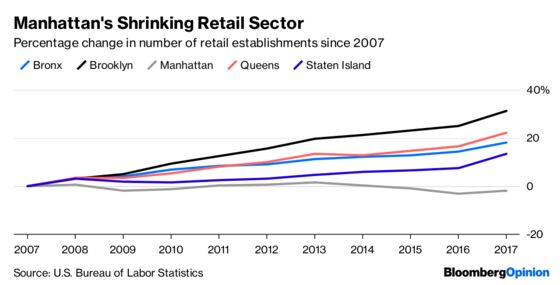 An establishment is, in BLS lingo, "the physical location of a certain economic activity — for example, a factory, mine, store, or office." At least, that's the aspiration; employers sometimes find it easier to report data for multiple locations, and the agency is constantly nudging them to break things down more. A couple of years ago I wrote a column about spectacular job growth in the city's outer boroughs, only to discover upon digging deeper into the data that what must have happened was that the BLS finally got the city's Board of Education to start reporting public-school employment by borough instead of attributing it all to the headquarters in Manhattan. So keep that in mind as a caveat, although I'm guessing that the overall picture of Manhattan retail establishments losing ground over the course of the current economic expansion is correct. The reported number of retail establishments in Manhattan also fell from 2001 to 2007, so this certainly isn't anything new.
This decline in one borough with strong growth in three of the others would seem to at least partially fit the affluence-is-killing-the-city narrative. Manhattan has the most expensive retail space in New York City, and it's been losing retail establishments. Happily, after more than doubling from 2010 through 2014, average rents in key Manhattan retail corridors have fallen almost 30 percent since 2015, according to commercial brokerage CBRE. So maybe the worst is over.
It's worth remembering, though, that retailers — as defined by the BLS —  aren't the only occupants of retail space. There are also nail and hair salons, cleaners, shoe repair shops, restaurants and bars. If the online-is-killing-retail narrative is accurate, you would expect the numbers for these more hands-on, service-oriented businesses to be better than the retailers'. Sure enough: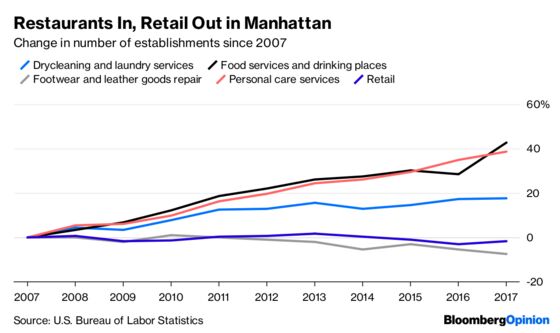 OK, footwear and leather goods establishments are disappearing from Manhattan at a faster pace than the retailers are. But I think that's mainly because people all over are buying fewer of the kinds of shoes one would take to a shoe-repair shop, not because of any Manhattan-specific problem. The borough, after all, remains home to 8.9 percent of the nation's footwear and leather goods repair establishments despite housing only 0.5 percent of the country's population.
Meanwhile, nail and hair salons, bars, and restaurants are becoming ever more abundant in Manhattan, with the number of food and drinking establishments (10,090 in the first quarter of 2018) in the borough likely to surpass the number of retail establishments (10,756) soon. Dry cleaners and laundry services aren't going away, either. There will be businesses enough to fill all those storefronts over time, I expect. They just won't be purely retail businesses.
This column does not necessarily reflect the opinion of the editorial board or Bloomberg LP and its owners.
Justin Fox is a Bloomberg Opinion columnist covering business. He was the editorial director of Harvard Business Review and wrote for Time, Fortune and American Banker. He is the author of "The Myth of the Rational Market."