Don't Blame the Bankers if This Fintech Becomes a Case of Buyers' Remorse
(Bloomberg Opinion) -- It didn't last long. Fintech darling Adyen NV is no longer bigger than Deutsche Bank AG. Shares of the payments startup have fallen 17 percent since a group of its original backers offloaded some their stock well before the end of a lock-up period set at its initial public offering.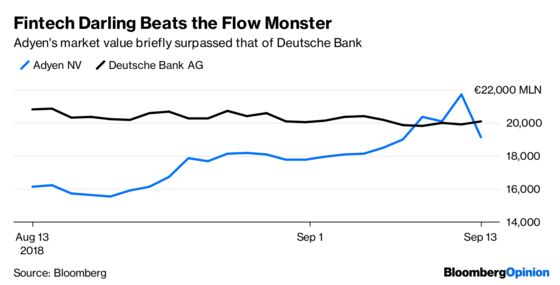 The disposals are understandable. Adyen's still-very-expensive valuation is less so. The risk of disappointment is real.
Adyen's IPO was the financial equivalent of a hippopotamus squeezing through a cat-flap. Huge investor demand for fast-growing payments providers, riding a wave of e-commerce and app-economy cash, met a very small amount of supply in the form of publicly traded companies.
A flurry of deals in 2017 had seen payments firms like Worldpay and Nets exit the stock market. Adyen itself decided to offer only a sliver of its equity, or about 14 percent of shares, in its IPO.
The outcome was predictably frothy: The stock doubled on its first day of trading, and then rose 62 percent over three months. Last week, Adyen's market value hit 21.7 billion euros ($25 billion), surpassing Deutsche Bank's 20 billion euros.
In this context, the shredding of lock-up agreements to allow pre-IPO investors to sell more stock looks entirely defensible. The placement of about 7 percent of the firm's equity at a near-10-percent discount rolled out more supply at a price that's still almost three times higher than that at which the shares were first sold to the public. This isn't a fire sale, nor has it caused alarm: Adyen's stock has fallen, but is only 8 percent off the 670-euro placing price.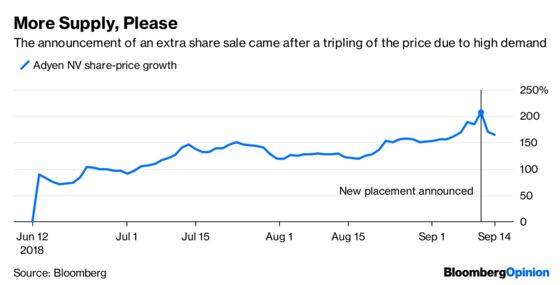 What looks less defensible is Adyen's valuation. The company is no longer quite as big as Deutsche Bank, but its market value is still 166 times this year's expected earnings, and 116 times next year's. That's pricier than Netflix Inc.
Adyen is certainly a profitable and fast-growing firm — first-half profit was up 75 percent in 2018 — but investors are assuming five to seven more years of racy, double-digit growth in an increasingly competitive environment.
What happens to Adyen the day it misses expectations?
Already, sell-side analysts don't seem entirely convinced. Their average 12-month price target on Adyen is 588.80 euros, 4.2 percent below the current level. If their estimates are right, the company should find itself on a more reasonable multiple of 80 times adjusted earnings in 2020. But that assumes durable, impressive profit growth along the way. There's every chance the ride will get rockier.
If this were any other company, or any other industry, you might wonder what special hell would be reserved for the bankers who radically under-priced an IPO and then, just three months later, threw away the lock-up agreements designed to protect investors who bought the stock.
But this is Adyen, and this is fintech. If ever buyer's remorse sets in, investors will have to look at themselves in the mirror before pointing the finger of blame at the sellers.
This column does not necessarily reflect the opinion of the editorial board or Bloomberg LP and its owners.
Lionel Laurent is a Bloomberg Opinion columnist covering finance and markets. He previously worked at Reuters and Forbes.