Congratulations, Cigna! Now Comes the Hard Part.
(Bloomberg Opinion) -- Cigna Corp. has successfully dodged two giant obstacles in its attempt to purchase pharmacy-benefit manager Express Scripts Holding Co. First, it got past Carl Icahn, who tried to convince investors to vote no on the deal in August, only to drop the effort days later after giving it further thought. And on Monday afternoon, it won clearance from the Department of Justice to go ahead with the transaction. 
But the hardest part lies ahead. This is a period of massive uncertainty for the PBM business, and Cigna is paying $54 billion for the pleasure of having to navigate it.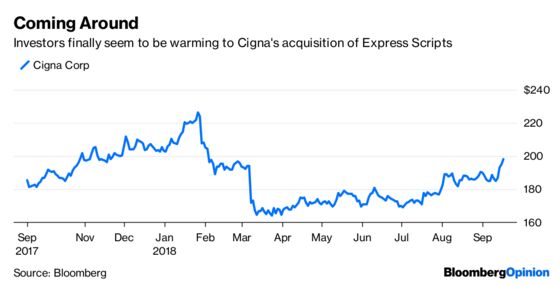 Even when the deal was announced in March, PBMs — which negotiate drug prices on behalf of employers and health plans — were under substantial public scrutiny, accused of using their middlemen status to encourage and profit from ever-higher drug prices. And Amazon.com Inc. was casting its disruptive eye on the health-care business. 
Since then? Amazon's theoretical interest has become real. It hired legendary Harvard surgeon Atul Gawande to run its high-profile employee health-cost containment joint venture, and confirmed its direct interest in the drug market with its purchase of online pharmacy startup PillPack. 
Political interest in the PBM business model has transitioned into a full-fledged effort by the Trump administration to change it. It's working on a rule that may make the drug rebates that PBMs negotiate — the primary service they provide and a major source of profit — substantially less lucrative. 
The administration doesn't seem to be messing around. In an interview with Bloomberg News on Sept. 12, Health and Human Services Secretary Alex Azar said he was targeting "disruptive" change to the current system with an aim toward making it more transparent. 
Amazon, meanwhile, may have an advantage in a simpler and less opaque drug management system. It's pretty good at getting things from point A to point B as cheaply as possible, and has a massive roster of people that use its services every day. 
To succeed in a world in which the model that made Express Scripts a profitable PBM giant no longer works, Cigna will have to figure out a new approach. That will likely mean accepting that its PBM arm will be less of a profit center in its own right, and that it must become a value-focused complement to its insurance business — one focused more on cost-effectiveness than the relentless hunt for the biggest possible rebate. 
It won't be an easy shift, but it's essential if this merger is going to succeed.
This column does not necessarily reflect the opinion of the editorial board or Bloomberg LP and its owners.
Max Nisen is a Bloomberg Opinion columnist covering biotech, pharma and health care. He previously wrote about management and corporate strategy for Quartz and Business Insider.