A Chequers Brexit Won't Help the Banks
(Bloomberg Opinion) -- London's ex-Lehman Brothers bankers who've been meeting up for nostalgic drinks have found the conversation shifting quickly to Brexit — and whether their next reunion will be in Frankfurt, Paris or somewhere else.
As the official March 2019 Brexit deadline looms, banks are in the last stages of preparing for a worst-case "no-deal." A brutal loss of the City of London's access to the EU wouldn't just mean renting a new office to have a nameplate somewhere. Instead, lenders would have to set aside billions of pounds to fund their overseas offshoots. 
True, the politics is looking more favorable to a fudged softer Brexit along the lines of Theresa May's derided "Chequers" plan. But even if she manages to keep the train on the rails, the proposal still entails the eventual loss of so-called "passporting" rights for London's bankers to work in Europe — just done at a gentler pace during a period of transition. So their bosses have no choice but to prepare for the worst.
Brexit is a vast undertaking for the finance industry, which has to make its plans public, budget for them, and get staff on board. As UBS Group AG's chief executive Sergio Ermotti said in an interview with Bloomberg TV on  Monday, "Whatever is going to happen from now onwards, it's not going to make the exercise less expensive."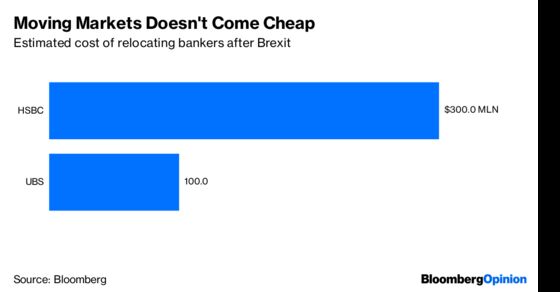 The preparations won't be fruitless, except in the unlikely — though not impossible — event of a second referendum that reverses the first. But, for an industry still struggling to emerge from the post-Lehman doldrums, it's an expense it could do without. Global banking return on equity fell one percentage point between 2014 and 2016, to 8.6 percent, according to McKinsey.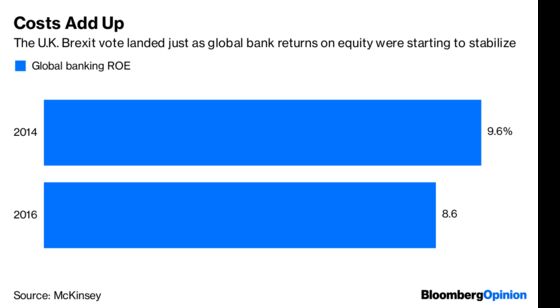 The bank subsidiaries being set up will have to be capitalized. The worst-case scenario for the industry's extra capital needs is estimated at $30-$50 billion by consultants at Oliver Wyman, while new operating expenses could hit $1 billion. 
The impact on staff will be heavy too. After drawing up lists of who has to be moved and where, managers are now having a "Brexit conversation" with staff that is proving almost as awkward as the more typical "bonus conversation." Some bankers will have to do back-and-forth journeys every six months, others will be sent on multi-year stints, and others will have to move for good. For Londoners with families, that won't always be welcome.
Banks have splurged on fancy European housing and private school places to appease their future expats. But, again, that means more money. Even HSBC Holdings Plc, which already has a fully-licensed Paris subsidiary, estimates the cost of moving 1,000 staff across the Channel at about $300 million.
The worry now is that cutthroat competition between banks will turn the last stage of the pre-Brexit marathon into a frantic sprint. Managers fret that disgruntled staff will be peeled off by rivals with the promise of a more lucrative relocation, or even a job with no relocation at all.
Of course, nobody knows still what Brexit will actually look like. The optimists' view is that politicians will patch up their differences, and some kind of deal will emerge that limits the cost and protects business. But the danger for bankers is that once managers and shareholders start looking at staff numbers and resource allocation in a global business, it's hard to stop. Maybe one unintended consequence of Brexit will be a realization that the banks had too many people, too many businesses, and too many markets to begin with.
This column does not necessarily reflect the opinion of the editorial board or Bloomberg LP and its owners.
Lionel Laurent is a Bloomberg Opinion columnist covering finance and markets. He previously worked at Reuters and Forbes.