Tesla's Biggest Investor Lacks Conviction in its Courage
(Bloomberg Opinion) -- Baillie Gifford & Co. is the largest investor in Tesla Inc. after the electric car company's maverick billionaire founder, Elon Musk. The Edinburgh-based fund manager owns about 7.7 percent of the company, a stake worth about $4.5 billion. You might think that such a committed investor would be 100 percent convinced Musk will confound critics of his automaking adventure. You'd be wrong:
There is still a good possibility that Tesla will prove entirely and highly successful and the returns we make to that would outweigh the downside involved in all these complex tasks not working out. But I think one should always try to phrase things in terms of probabilities and payoffs rather than certainty. We think there is a chance that we can make a lot of money for our clients in exercising this vision, which is surely good for the world, but are we certain about it? No, of course not.
Those comments are from Baillie Gifford partner James Anderson, published Friday in an interview with Citywire. Now, of course he's absolutely correct to say there are no certainties in life or, indeed, investing. But his slightly less-than-ringing endorsement of Tesla's prospects of delivering stellar returns — "a good possibility" and "we think there is a chance" — seem at odds with the size of the bet the Scottish firm, which oversees about $255 billion in total, is making on Musk's ability to deliver on his promises.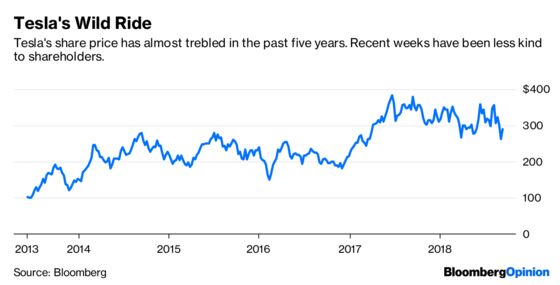 Anderson first took a position in Tesla five years ago. Since then, the shares have had a wild ride, as the chart above shows. Asked by Citywire whether he bought more shares in the past month's sell-off, Anderson equivocated: "I need to be cautious about what I'm saying here, but our support remains substantial."
Perhaps more worrying are the comments Anderson makes about those who are betting against Tesla by shorting its shares. In Anderson's view, these "malignant" investors have a "vicious" hypothesis which gets much publicity. 
After Musk's infamous Aug. 7 tweet about taking Tesla private, Baillie Gifford had a conversation with the founder in which the fund manager expressed its sympathy about short-sellers and short-termist investors, according to the Citywire interview. But Musk's stated ambition to "burn" the short sellers seems to have been one of the key motivations for his failed strategy to take the company private, now the subject of an investigation by the Securities and Exchange Commission and at least one lawsuit.
Feeding his paranoia about those investors betting Tesla's shares will decline — and they range from Jim Chanos to David Einhorn to Crispin Odey — seems like a dangerous thing for Musk's biggest financial backer to be doing.
This column does not necessarily reflect the opinion of the editorial board or Bloomberg LP and its owners.
Mark Gilbert is a Bloomberg Opinion columnist covering asset management. He previously was the London bureau chief for Bloomberg News. He is also the author of "Complicit: How Greed and Collusion Made the Credit Crisis Unstoppable."