HNA Needs Help. China Inc. Doesn't Need Deutsche Bank
(Bloomberg Opinion) -- Would Berlin ever approve a Chinese government stake in Germany's biggest bank? And if it did, why would China Investment Corp. want a chunk of struggling Deutsche Bank AG?
China's sovereign wealth fund and other large state-controlled investors have expressed interest in buying Deutsche Bank shares held by beleaguered HNA Group Co., the Wall Street Journal reported. CIC and the likes of Citic Group Corp. are looking to relieve the debt-burdened conglomerate of its 7.6 percent stake in the bank as the former regional airline reverses a multibillion-dollar buying binge.
While a state-directed bailout of HNA is unsurprising given the firm's  $79 billion or so of debt, there's little chance that an increasingly protectionist Germany would approve a purchase by China Inc.
Any buyer of the stake would be one of Deutsche Bank's largest shareholders, and German attitudes toward Chinese deals have hardened: The government this year blocked Yantai Taihai Group's bid for Leifeld Metal Spinning AG, a machine-tool manufacturer, following an outcry over the 2016 purchase by Midea Group Co. of  Kuka AG, a robotics company.
Moreover, banking is a world apart from logistics, the industry into which CIC waded when it paid $13.8 billion last year to buy U.K.-based Logicor from Blackstone Group LP – the wealth fund's biggest deal ever and the largest Chinese overseas takeover of 2017. 
Even if Germany approved a CIC purchase, the firm's track record with Western financial institutions doesn't necessarily inspire confidence. Acquisitions during the financial crisis looked like a good idea at the time, but paper losses dogged the early years of its investments in Blackstone's 2007 IPO and in  Morgan Stanley. Both firms have chalked up impressive turnarounds since then, but Deutsche Bank is a different story.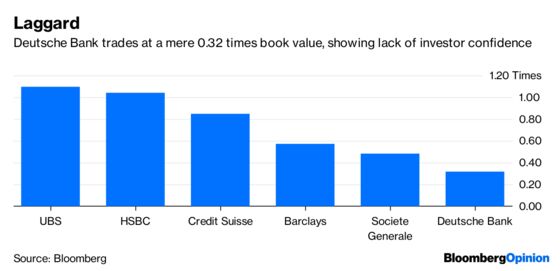 The German institution is struggling with a surge in funding costs, a declining market share in trading and armies of skeptics. Unlike Japan's Nomura Holdings Inc., which began shrinking after its ambitious purchase of Asian and European businesses from Lehman Brothers Holdings Inc. didn't pan out, Deutsche Bank can't fall back on its home market. German banking is famously overcrowded, an important reason it began looking around the world for investment-banking heft in the first place. 
To be sure, Deutsche Bank could be a fabulous turnaround story. Its investment bankers are famously smart and would be useful allies for Chinese state banks seeking to expand overseas.
But CIC would be no more able than HNA, after its notably short-termist purchase, to turn the bank around in the absence of political backing in Germany, even though the $941 billion fund is coming off the best annual return in its decade-long history and can afford a punt.
Whether or not CIC and its compatriots take the Deutsche Bank stake off HNA's hands, one thing has become clearer: The conglomerate, for all its protestations of a return to health, remains the kind of potential systemic risk that calls for a government-directed bailout.
This column does not necessarily reflect the opinion of the editorial board or Bloomberg LP and its owners.
Nisha Gopalan is a Bloomberg Opinion columnist covering deals and banking. She previously worked for the Wall Street Journal and Dow Jones as an editor and a reporter.