Has Billionaire Ashley Finally Found His Adult?
(Bloomberg Opinion) -- Wanted: chairman to get seller of cheap sportswear running in the right direction. Must be able to tame dominant founder and charm detractors.
That was the advertisement I urged Sports Direct International Plc to place two years ago, when investors were baying for the blood of Keith Hellawell. The former West Yorkshire police chief constable was a divisive figure, seen by some investors as incapable of controlling the wildest eccentricities of founder and Chief Executive Officer Mike Ashley. The latter's backing — and 61 percent ownership of Sports Direct — helped him survive two attempts at his ouster in late 2016 and early 2017. 
On Wednesday the company said his time was up.
But it's not clear that his replacement, David Daly, has everything it takes to measure up to my ad.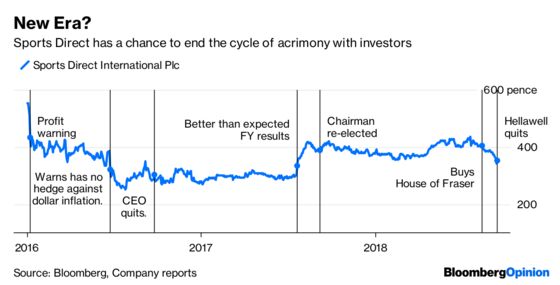 Daly joined the board in October as a non-executive director, so that indicates that a change may have been in the works for a while. 
He is a former Nike executive, and given that a key plank of Sports Direct's strategy is to improve its relationships with the big brands, that is helpful.
Less helpful is his lack of significant retail experience, which would have been handy. Reinvigorating House of Fraser is a big job, and could yet undo the company's recent improvement. But at least the external environment is more favorable than it was two years ago, when it had failed to hedge against a slump in the pound and was lambasted by lawmakers over its working practices.
Steering the retailing business is only one part of the job description. Whether shareholders like it or not, Sports Direct is a Mike Ashley show. It's not clear that Daly — or indeed, anyone — will be able to rein him in.
The founder scored some rare positive PR by saving stores and jobs at House of Fraser. He's also in a position to pick up other assets — including potentially Debenhams, in which Sports Direct has a 28 percent stake — at knock-down prices.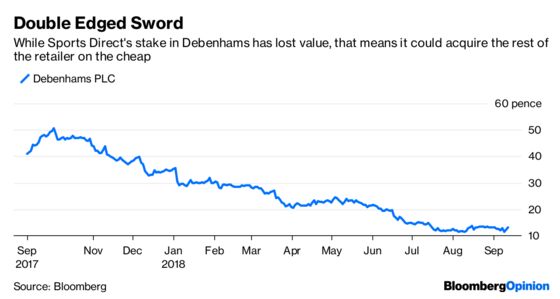 But that's just the latest news. Sports Direct has faced corporate governance issues since it went from being a stellar performer to issuing a string of profit warnings.
The best investors can hope for is that Daly can be some counterweight to the founder, and without fireworks. Constant boardroom bust-ups are in nobody's interest.
The company should really be in private hands, but Ashley missed his best chance to buy out minority investors when the shares were in the doldrums around 2016. 
Still, with better prospects for the core sportswear chain and further cheap retail pickings, this new chairman could well help break the cycle of acrimony with investors that has plagued Sports Direct.
This column does not necessarily reflect the opinion of the editorial board or Bloomberg LP and its owners.
Andrea Felsted is a Bloomberg Opinion columnist covering the consumer and retail industries. She previously worked at the Financial Times.