Erdogan Overshadows Turkey's Massive Rate Hike
(Bloomberg Opinion) -- It was everything you could want from a central bank. Faced with runaway inflation, Turkey's policy makers have responded decisively – but it's still far too early to say that the lira is past its worst.
On Thursday, the Monetary Policy Committee raised its one-week repurchase rate to 24 percent from 17.75 percent, exceeding all but one forecast in a Bloomberg News survey. Officials also reaffirmed their commitment to this rate as their key benchmark, showing that they're giving up on their stealth efforts to address the weakness of the lira. Just as important is officials' statement that they will exercise strong vigilance on inflation:
Tight stance in monetary policy will be maintained decisively until inflation outlook displays a significant improvement.
This, on its own, would normally be enough for investors to draw a line under the lira's weakness. The central bank has shown, at last, that it is prepared to administer tough medicine to control prices. The currency turned a 3 percent loss against the dollar into a 2 percent gain.
But Turkey can never control inflation until it shows it can control its currency. Alas, President Recep Tayyip Erdogan appears, yet again, to be at cross-purposes with his central bank.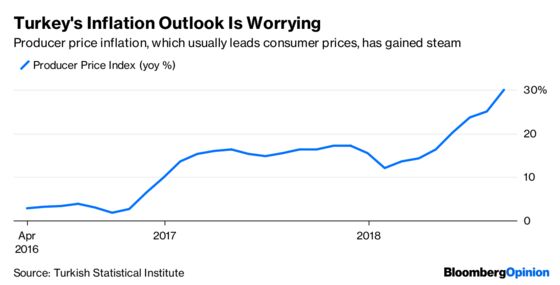 Leave aside the surprising comments he made hours before the central bank's announcement showing that he's as attached as ever to the unorthodox belief that higher interest rates cause faster inflation. Much more concerning are the other measures Erdogan has taken in the last two days. He has put himself and his son-in-law in charge of the nation's sovereign wealth fund. This effectively puts them in control of all state companies, from railways to telecom.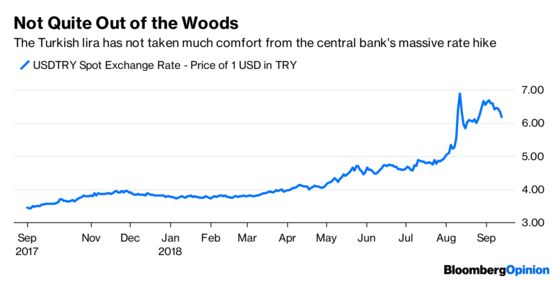 He has also banned the use of foreign currencies for all domestic contracts. This could hurt the economy by forcing everyone to denominate their business in a volatile currency in which they have little confidence. That's a recipe for activity to grind to a halt.
Erdogan said on Thursday that new measures to prevent fluctuations in foreign exchange rates are on the way. That suggests domestic capital controls are a risk. His remark that people shouldn't be involved with foreign currencies unless they are either an importer or exporter raises the troubling prospect of individual depositors' balances being forcibly converted into lira. 
These measures, if enacted, would mark a seismic change in how Turkey's open economy functions. However much Turks try to get around them, they would bite in one way or another. A serious recession would be likely. 
Already the weakness is here. Gross domestic product growth cooled to 5.2 percent in the second quarter from 7.4 percent in the previous three months. Indeed, the central bank noted that the slowdown in domestic demand is accelerating. Given that the lira has dropped 25 percent against the dollar so far in the third quarter, growth is sure to deteriorate further.
The lira's failure to build on its initial gains following Thursday's rate increase shows investors' concern persists. They may have regained their confidence in the central bank: it has demonstrated some independence. But regaining overseas investors' trust in Erdogan is even more crucial.
This column does not necessarily reflect the opinion of the editorial board or Bloomberg LP and its owners.
Marcus Ashworth is a Bloomberg Opinion columnist covering European markets. He spent three decades in the banking industry, most recently as chief markets strategist at Haitong Securities in London.