Unilever Dutch Row Misses the Danger of Pricey M&A
(Bloomberg Opinion) -- Unilever NV is asking its shareholders to grant it more flexibility in M&A at the cost of slightly stronger takeover defenses and ejection from Britain's blue chip FTSE-100 index. The cost-benefit equation turns above all on whether the consumer group can be trusted not to abuse its newfound freedom to overpay for a U.S. deal.
To re-cap, the group comprises separate U.K. Plc and Netherlands NV companies that act jointly. On Tuesday it detailed a plan to create a new Dutch firm that will buy out the existing entities. The two separate classes of shares will become one, although still traded across London, Amsterdam and New York.
The company is correct in noting that a unified Unilever could have demerged its spreads business with ease, instead of selling it to private equity earlier this year.
But really, the main benefit is the greater capacity for doing deals in North America.
If Unilever made a share-based offer for a U.S. company today, paying in two classes of stock could expose the target's investors to extra taxes, according to UBS research. But if it uses only one class, then its firepower is that of a company only half its $162 billion size. Twin shares are a red flag to mischievous hedge funds, too.
All this has put big share-based M&A, particularly in the U.S., off the table. Better to unify the PLC and NV and have a single, no-nonsense acquisition currency.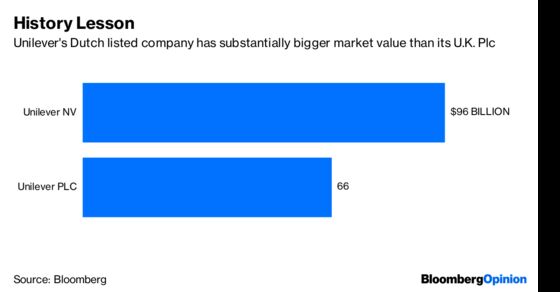 Now to the costs. Unilever must become fully British or fully Dutch, with consequences either way. Royal Dutch Shell Plc unified a similar dual-headed structure in 2005, and had its cake and ate it by incorporating in London while keeping headquarters and tax residency in the Netherlands. The snag is that while the oil major became one company, it had to maintain two share classes, with one paying dividends in a different manner so as to exempt U.K. investors from Dutch taxes. 
Unilever has chosen to be all Dutch, while headquartering two out of its three divisions in Britain to preserve the "Anglo" from its Anglo-Dutch heritage. The London shares probably won't qualify for the FTSE-100. Trackers and active funds with a blue-chip mandate will have to sell. The increased weighting of a newly simplified Unilever in euro zone indices creates forced buyers to pick them up.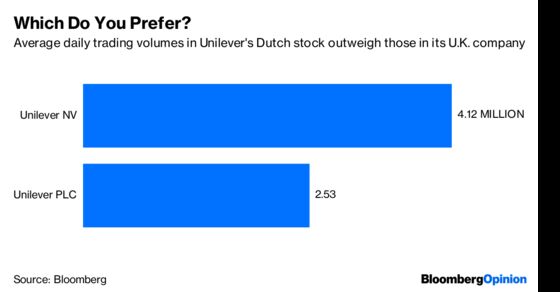 One justification deciding not to become a pure U.K. company is that this would completely annihilate Unilever's Dutch heritage. But the political backdrop in the Netherlands also looks more helpful to Unilever in fending off a bid.
U.K. Prime Minister Theresa May is probably more wary of decisively intervening in a takeover than her Dutch counterpart (and former Unilever employee) Mark Rutte. She has to show Brexit Britain is an open market. The Dutch corporate model explicitly puts shareholders and stakeholders on equal footing. While this is not a failsafe – a British bank was allowed to buy Netherlands bank ABN Amro before the financial crisis – it is likely to be a marginal deterrent to bidders.
This matters because Unilever has chosen to forgo the main Dutch protection mechanism – a foundation that can use a poison pill to thwart a hostile bid. What's more, it will put directors up for election annually. So if the board ignored shareholder pressure to engage on a bid – as paintmaker Akzo Nobel NV's did last year, with court backing – investors could kick them out anyway.
The reality is that there's no significant advantage or disadvantage to shareholders in Unilever being Dutch or British. Shareholders should worry more about the increased risk profile from the company's newfound freedom to pursue M&A. Some very sizeable potential transactions come into view – the likes of Estee Lauder Cos., worth $51 billion, and Colgate-Palmolive Co., worth $58 billion.
That's fine, if Unilever just wants to avoid missing a one-off opportunity – say, if it can be the friendly counter-bidder to a target under hostile siege. But it's hard to believe Chief Executive Officer Paul Polman doesn't have his eye on something. He is in the twilight of his tenure.
Unilever shares have performed better than those of Nestle SA, Procter & Gamble Co., Kraft Heinz Co., Danone SA and Colgate this year, in dollar terms. Only Estee Lauder has done better. Unilever is now more than double the size of Kraft, which aborted a takeover attempt last year. Polman may take that as a mandate for going on the offensive. An overpriced deal would make the impact of leaving the FTSE look like a minor graze.
This column does not necessarily reflect the opinion of the editorial board or Bloomberg LP and its owners.
Chris Hughes is a Bloomberg Opinion columnist covering deals. He previously worked for Reuters Breakingviews, as well as the Financial Times and the Independent newspaper.