Emerging Markets Hear the Mighty Dollar Roar
(Bloomberg Opinion) -- The first stage of this emerging market currency crisis was all about how the problems of individual nations were spilling over into contagion — but without dollar strength as a factor. 
No longer. A nine-year high for U.S. average hourly earnings in Friday's non-farm payroll report, combined with the strongest reading for the manufacturing PMI index since 2004, have pushed two-year Treasury yields to levels not seen 2007. Add to this that the Federal Reserve is in no position to back off its quarterly rate-hiking cycle anytime soon or halt its reversal of quantitative easing. As my colleague Shuli Ren has pointed out, the global financial system has to get used to having fewer dollars around.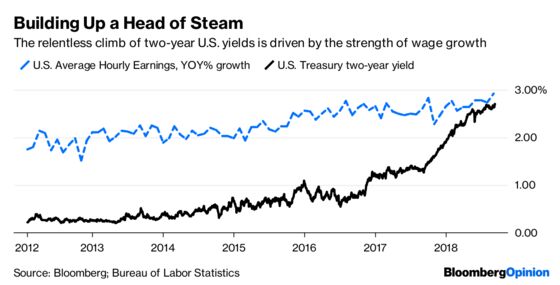 With this macroeconomic picture, it's hard to see what can knock the greenback off course.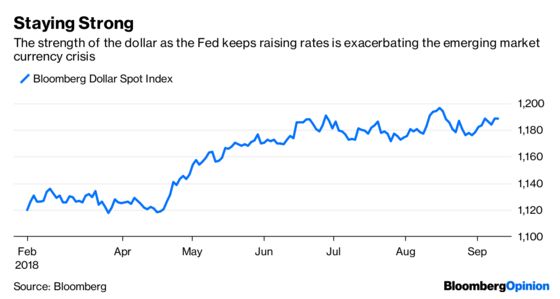 The emerging market economies that have large current account deficits and rely heavily on dollar funding are most at risk. With rising crude oil prices, those dependent on hydrocarbon imports, which are usually paid for in the U.S. currency, are even more so.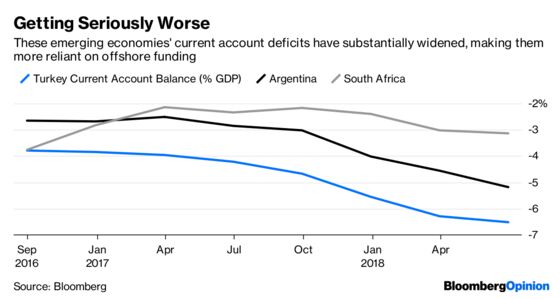 Step forward Argentina, Turkey and South Africa. Of all the developing nations that have suffered serious currency depreciation lately, these are most vulnerable to a renewed bout of dollar strength — their failure to resolve their domestic economic and political problems means the misery will just get piled on.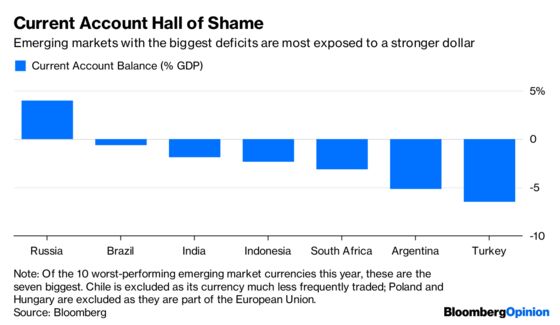 Turkey last week missed another opportunity to regain some control over its currency by not raising rates immediately after a report showing inflation accelerated to a 15-year high in August. Even if the central bank raises rates at Thursday's meeting that would be a case of too little, too late to prompt an about-turn for the lira. Data on Monday showing a drop in second-quarter gross domestic product growth to a 5.2 percent pace from 7.4 percent in the previous period shows how quickly the economy is deteriorating. 
Argentina, which pushed rates up to 60 percent and yet saw no recovery in the peso, is desperate for the International Monetary Fund to accelerate payments on its record $50 billion bailout. The government is resorting to relying on export taxes to narrow its fiscal deficit a year earlier than planned. Taxing the income-generating parts of its fragile economy to balance its books is not a long-term growth strategy.
South Africa's unexpected slide into recession shows how its political problems have only deepened since the removal of its controversial president, Jacob Zuma, earlier this year. Property prices have fallen by a third as the ruling African National Congress plans to implement land reforms, and the finance minister warned that revenue and growth estimates for the year are likely to be cut.
None of this means that developing countries with less dollar exposure are set up for an easy time. The sinking Russian ruble is a prime example of how other problems can provoke a risk-off flight.
The U.S. economy's vibrant health will make recovery even harder for weaklings that depend on offshore dollar funding. The contagion in emerging markets is set to take a worrying turn.
This column does not necessarily reflect the opinion of the editorial board or Bloomberg LP and its owners.
Marcus Ashworth is a Bloomberg Opinion columnist covering European markets. He spent three decades in the banking industry, most recently as chief markets strategist at Haitong Securities in London.