Snap Continues to Prove It's Bad at Being a Company
(Bloomberg Opinion) -- The minute I saw Snap Inc.'s financial statements last year, I couldn't understand why the company was going public at such a young stage of its development with so short a track record for its corporate strategy. 
The initial public offering for Snapchat's parent company went well, showing that investors saw Snap as a promising blank state with all its potential ahead of it. That optimism faded as Snapchat repeatedly showed it wasn't very good at being a public company. On Monday, Snapchat provided even further evidence. 
Imran Khan, the former investment banker who was Snapchat's No. 2 executive as chief strategy officer and the company's liaison to Wall Street, plans to leave the company to "pursue other opportunities," Snapchat said in an early morning regulatory disclosure. 
Khan, 41, is leaving to start his own investment firm that will take stakes in technology companies, according to a person familiar with the matter, Bloomberg News reported. Khan will stick around until the company finds a successor. 
None of this is good news for Snapchat, which in its short life as a public company already has a track record of grinding through executives, pursuing questionable strategies, and falling short of investors' financial expectations. Last week, Snap's shares hit their lowest point since the company's March 2017 IPO. Expect the stock price to sink further as investors react to Khan's departure.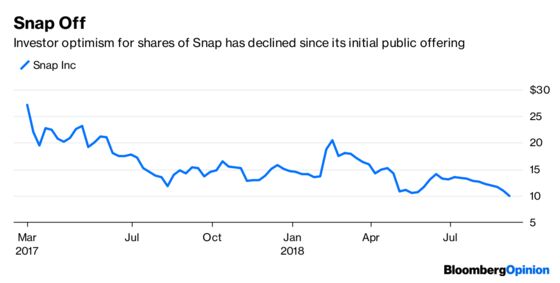 In case there was any question before now, Snapchat has confirmed that it is a one-man show — co-founder/CEO/shy emperor Evan Spiegel — and he has made a hash of his company. Snapchat is having trouble increasing the number of app users, its upended advertising business isn't growing as fast as investors expected, it continues to bleed cash prodigiously, its external and internal strategy communications have been poor, and it is a paragon of shoddy corporate governance. 
All of Snapchat's red flags were obvious when the company went public, but investors chose to overlook the company's flaws and focus on its cabal of loyal users, track record of clever innovations and growth potential. The company in the long run may still be successful. But it's remarkable how quickly Snapchat's flaws have become scars and how fast its weaknesses have turned the company into a mess. 
Khan is replaceable, of course. But his departure is a bad omen for a company that needs steady hands at the wheel, and instead is veering into oncoming traffic.
This column does not necessarily reflect the opinion of the editorial board or Bloomberg LP and its owners.
Shira Ovide is a Bloomberg Opinion columnist covering technology. She previously was a reporter for the Wall Street Journal.