Relief at Richemont as CEOs Come Back in Fashion
(Bloomberg Opinion) -- So CEOs aren't so last season after all.
Like all good luxury houses, Richemont has dug into its archives and appointed Jerome Lambert as chief executive officer, almost two years after doing away with the post.
The non-CEO structure that was put in place in November 2016 always looked cumbersome and ripe for internal power struggles. It certainly didn't get off to a good start. Just eight months after Richemont installed its new-look management team, it lost a key member when Georges Kern, head of watchmaking and a potential CEO candidate if that role ever became open again, left to revitalize rival Breitling.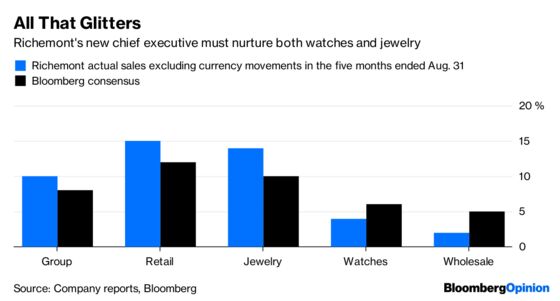 Though Lambert already had significant responsibilities as chief operating officer, the appointment adds clarity and removes the risks associated with such an unconventional corporate structure. And by appointing a watchmaking veteran, Richemont has demonstrated that it is putting timepieces at its heart.
This doesn't come a moment too soon. The shares have fallen about 16 percent since mid-May, when profit disappointed as Richemont continued to buy back unsold watches. Since then, the luxury market's heady performance has become vulnerable to a slowdown in Chinese spending.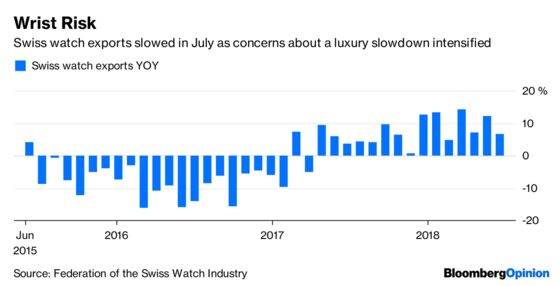 The company's push to build a digital powerhouse, by acquiring the shares in Yoox Net-A-Porter Group SpA that it did not own as well as online pre-owned timepiece seller Watchfinder, raised the risk that the focus could have shifted from the core business.
With Lambert as CEO, that danger should be averted.
The group certainly needs to be diligent when it comes to watches. Although Richemont reported better than expected sales growth for the group as a whole in the five months to Aug. 31, revenue at its specialist watchmakers rose 4 percent excluding currency movements, below the consensus of analysts' expectations for a 6 percent increase.
The company needs to do better. At least the signs here are good — it is continuing to show restraint by ensuring that it doesn't flood the market with stock.
Although the heads of Cartier and Van Cleef & Arpels will continue to report to the board separately, Lambert will also need to continue to nurture jewelry, Richemont's biggest and most profitable division. It was the stand-out performer in the last five months, with sales excluding currency movements up 14 percent.
Investors are certainly giving Lambert the benefit of the doubt — the shares rose about 1 percent on Monday. And of course he will continue to be supported by Chairman Johann Rupert.
The stock trades on a forward price earnings ratio of 21 times, compared with about 17.5 times at Swatch Group AG. That is justified by Richemont's increasing digital focus, its limited exposure to smart watches, its strong balance sheet, and its enviable position in jewelry.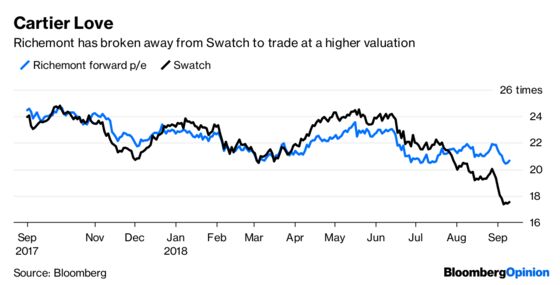 These qualities should help the group if another retro look returns: a weaker luxury market.
This column does not necessarily reflect the opinion of the editorial board or Bloomberg LP and its owners.
Andrea Felsted is a Bloomberg Opinion columnist covering the consumer and retail industries. She previously worked at the Financial Times.