Don't Bet on a Relief Rally in Sweden
(Bloomberg Opinion) -- Whatever the result of Sweden's election, don't expect the krona to arrest its seven-month slide. The central bank appears to be in no hurry to raise interest rates. Any relief rally after this weekend's vote is unlikely to be long-lived.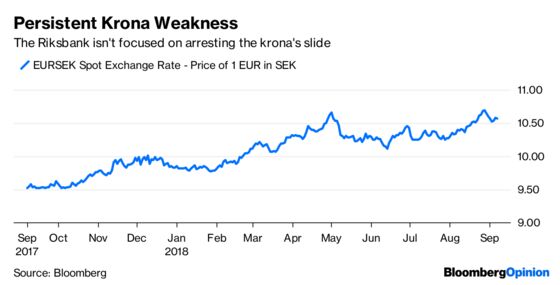 A clear outcome looks unlikely. With neither of the country's two political blocs looking likely to win a majority, the risk of protracted coalition negotiations or another election are high. Support for the nationalist Swedish Democrats is also surging.
The krona is likely to react poorly if the populist movement gets more than the 20 percent share of the vote opinion polls suggest. Its policy to take Sweden out of the European Union has spooked overseas investors into selling the currency — even though the likelihood of Swexit is about zero.
If Swedish politics is confusing traders, the same goes for the country's monetary policy. The central bank's board appears to have divergent views on where rates should be.
On Thursday, the Riksbank delivered a message that managed to be hawkish and dovish at the same time. It indicated it won't raise rates before December or February — later than it previously suggested. But it added that any hike would be at least 25 basis points.
Most analysts still don't believe the Riksbank will lift its rate from minus 50 basis points, where it has been since June 2016, before the European Central Bank moves. The latter has committed to keeping rates at negative 40 basis points until after middle of next year.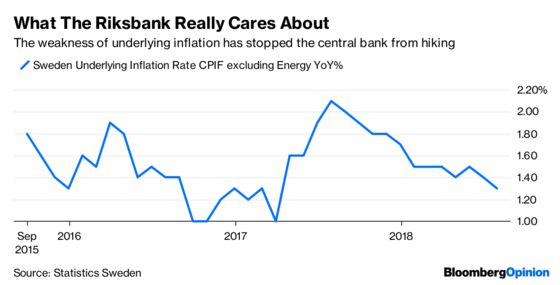 The main preoccupation for the Riksbank appears to the inflation rate, which has been stubbornly low in the face of negative interest rates. The underlying rate, excluding energy, has slid to 1.3 percent, below the central bank's 2 percent target. All this supersedes any concern about the long-term weakness of the krona.
If there is any central bank that could be accused of currency manipulation it is the Riksbank, which seemingly takes every opportunity to send a dovish rate message to undermine the krona. Until both Sweden's politics and its central bank's rate stance become clearer, expect the currency to continue to come under pressure.
This column does not necessarily reflect the opinion of the editorial board or Bloomberg LP and its owners.
Marcus Ashworth is a Bloomberg Opinion columnist covering European markets. He spent three decades in the banking industry, most recently as chief markets strategist at Haitong Securities in London.